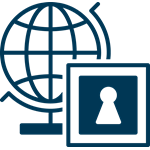 International trade
If you are considering importing or exporting, you can find tips and instructions in these guides.
Let's put your business in the best position and help your business to grow!
Prepare for importing and exporting
International trade - planning and execution
Protect yourself against foreign trade risks
Protect yourself

Modest development in home markets has pushed several companies to look for new customers and grow their markets in recent years. International business opportunities also bring risks that you should be prepared for. Our specialists will help you with payment and risk management related to your exporting and importing business.

Trading in a precarious world imposes demands especially on risk management. How to identify and protect yourself from foreign trade risks? Once you know the risks, you can prepare for them in the best possible way, with the right partners.




What is your business risk management policy?

What are the risks you are willing to accept, and how should you protect yourself? Make sure everyone in your business knows your business risk policy. Find out the background of your business partners and find the right banking connections, the correct payment methods, and the right risk management tools.


Trade Finance products for export risk management

Risk: Buyer Credit Risk
Risk Management Tool: If you do not receive payment for the whole transaction as an advance, reduce your risk by choosing a payment method: choose your credit or debit card. Or claim a good foreign bank guarantee or a standby credit card for security.

Risk: Country and Bank Risk
Risk Management Tool: Use an export broker approved by your bank. If you want to use a bank guarantee for security, do not require the mandate guarantee that you would receive from your bank with a foreign bank counter guarantee. Confirmed standby credit is also a good option.

As an importer you should consider payment timing

Risk: Prepay
Risk Management Tool: If you pay the entire amount of your purchase as an advance, do not require a pre-payment from your trading partner to get your refund if the transaction is not completed.

Risk: Country and Bank Risk
Risk Management Tool: If the policyholder or country involves a political or financial risk, the guarantee is warranted as an assignment guarantee or a confirmed standby remission.

We will help you find the right solutions to make sure you succeed in foreign trade. No refunds are made on the established payment time export bucket: it serves the exporter as an instrument for payments, finance and risk management. You can lower your availability at the shipping stage and thus change the payment time in cash easily and cheaply. Other ways of financing exports can also be found in the country of destination and depending on the size of the trade. Bank guarantees, on the other hand, are well suited as security for the various purposes of foreign trade. They are easy to use and help build trust between trading partners from different countries.

Did you know?

Our Trade Finance services are the best in the Nordic countries for the sixth consecutive year. The ratings were provided by our customers in the annual TNS SIFO Prospera study.
We have a wide network of over 1,300 foreign correspondent banks to manage your business's payments, risk management and finance.