After five years as General Manager of Danske Bank Lithuania, Ramūnas Bičiulaitis will step down from his position on 30 November 2022 to pursue other career opportunities outside of Danske Bank. Giedrius Dzekunskas, Head of Technology Operations Danske Bank Lithuania, additionally to his current position, will replace Ramūnas as a General Manager Danske Bank Lithuania. The Danske Bank Lithuania leadership team remains unchanged.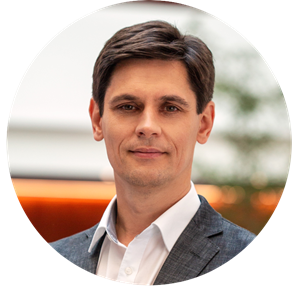 I am leaving Danske Bank after an exciting and intensive career in the organisation. I has been privileged to be a part of the fundamental transformation of the Lithuanian organisation from a domestic banking organisation to a global service and technology centre. Together with many great colleagues, the development has intensified further into the strong competence centre we are today and a strategic site for the Danske Bank Group.
— Ramūnas Bičiulaitis

In addition to his overall responsibility for Danske Bank Lithuania site operations, Ramūnas Bičiulaitis was responsible for the closure of banking services and residual portfolio amortisation in the Baltics. The residual loan portfolio in Estonia was sold in 2020, in Latvia in 2021, and the remaining Lithuanian corporate credit portfolio will be amortised by the end of 2022.
"At the end of this year, my functional area within the organisation will be closed, and the team will complete the outstanding formalities by the end of January 2023. I am particularly grateful to my team and to the entire Danske Bank organisation and to the management team for their trust, collaboration, and the ambitious projects we have implemented together.
For me, Danske Bank is all about great people with whom we have created new initiatives, dealt with challenges, celebrated wins, and supported each other for more than 13 years. I am grateful to each and every colleague for the long journey we have taken together."
— Ramūnas Bičiulaitis
Ramūnas Bičiulaitis joined Danske Bank in 2009. Prior to becoming General Manager of Danske Bank Lithuania, he was Chief Financial Officer for the Branch. After leaving Danske Bank, Ramūnas will continue his professional career outside the organisation.