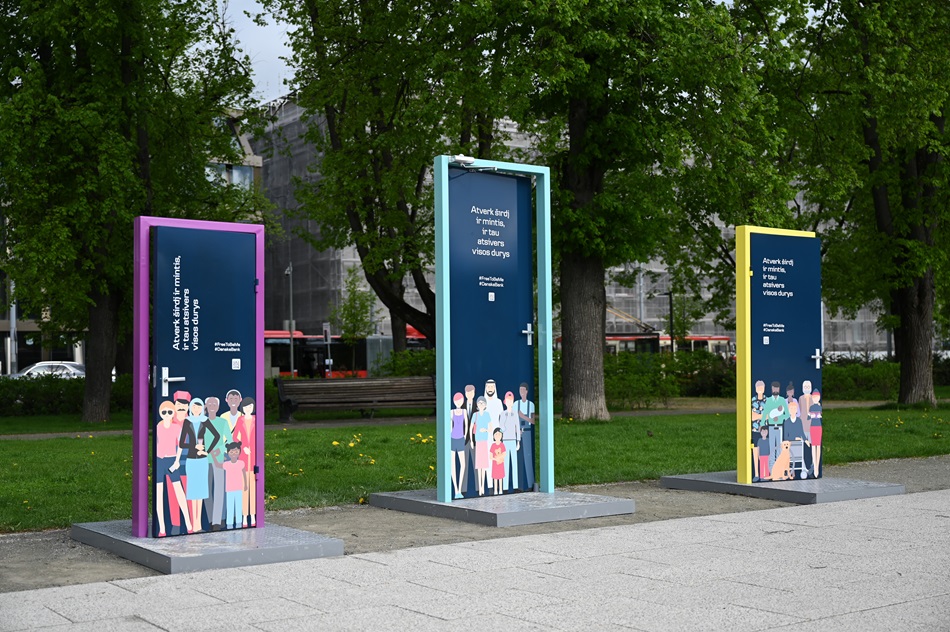 The choice of 17 May for the launch date was no coincidence, as this is the International Day Against Homophobia, Biphobia and Transphobia (IDAHOBIT). May has also been declared European Diversity Month 2021, to raise awareness of the importance of diversity and inclusion in all EU workplaces and societies. Based on the motif of open doors, the installation at Lukiskes Square will be exhibited for a full month, encouraging a more open outlook on the world and the acceptance of diversity.
'Having an open mind and working to sustain and promote diversity are integral parts of the core values in our organisation. We strive to put these values into practice in multiple ways, as well as promoting them in the broader society. Our four-thousand-strong Lithuanian team has brought together people from very diverse backgrounds. We are convinced that this diversity makes us stronger and lets us achieve more. We strive to lead by example, by making every effort to provide equal opportunities for all people and supporting them, and by encouraging everyone to be their true selves. The Lukiskes Square art installation is one way of raising awareness of these important issues,' said Ona Juodkiene, IT Lead for the Risk Tribe at Danske Bank and Member of the Danske Bank Group's Diversity and Inclusion Council.
According to O. Juodkiene, a closed door symbolises blocked opportunities and the imposition of limitations, which is why the art installation invites passers-by to open doors and view the world with an open heart and mind, free of prejudices that are often baseless or outdated. O. Juodkiene believes that such an outlook will also open up new opportunities in a person's life – in terms of their career, new experiences, expansion of one's social circle, and for personal development and growth.
Vytautas Aseris, Head of Large Corporates & Institutions satellite at Danske Bank Lithuania and a co-lead of Diversity and Inclusion, explained that Lukiskes Square was chosen as the location for the art installation because of its status as a communal meeting point that has itself become an object of debate, as a meeting point for diverging opinions. According to V. Aseris, the installation will invite Vilnius residents to take part in another discussion, by prompting them to address the question of how open we really are to one another.
'Of course, promoting tolerance and inclusion has to start with leading by example. This is why our organisation has been making a consistent effort to be more open, as well as to empower and ensure we provide equal opportunities for people with diverse beliefs, those of diverse races, faiths, sexual orientations and physical abilities, or simply those who do not look like us. It goes without saying that this cannot be achieved overnight and creating a diverse culture is something we have to work towards every day – which is why we are only at the beginning of a long road,' said V. Aseris.

According to V. Aseris, Danske Bank is strongly promoting a culture of tolerance within the organisation, where responses to any and all instances of discrimination happen in a prompt manner. The organisation has set up a Diversity and Inclusion Council, runs diversity and inclusion training for its senior managers and other personnel, and is continuously updating its internal processes to advance gender equality, zero discrimination, an equal pay policy and unbiased hiring systems. It has recently developed and implemented a new guideline that aims to promote the inclusion of trans-gender individuals in the workplace. Danske Bank has also joined the Stonewall Global Diversity Champions programme, which is seeking to reinforce a long-term commitment towards creating an open and welcoming workplace environment for people from the LGBT+ community.
Vytautas Aseris revealed that the Danske Bank employees themselves are increasingly becoming involved in various activities and initiatives to promote and support diversity. For example, around 1,000 employees actively took part in Danske Bank's Zero Discrimination Week in March of this year. More than 50 colleagues are members of Lithuania's Rainbow Network, which is actively supporting the country's LGBT+ community. Discussions on the topics of inclusion and diversity have also become more active in the organisation's internal social network.
The interactive art installation promoting diversity and tolerance will be exhibited at Lukiskes Square in Vilnius between 17 May and 15 June 2021.