With the autumn coming along, the changing weather brought new winds to Danske Bank Lithuania Leadership Team too. Our long-term colleague, Giedrė Gečiauskienė, Head of Markets services, joins Danske Bank Lithuania Leadership Team.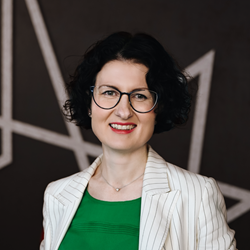 "I am more than excited to join Danske Bank Lithuania Leadership Team and bring wide range of ideas and thoughts to the table. I have always aspired to be an ambassador of Lithuania within the organization and beyond. I truly believe that Lithuanian contribution makes a significant impact to the Group, and we are absolutely capable of extending it even further, which I would be so glad to witness,"

Giedrė Gečiauskienė
Giedrė Gečiauskienė will also move from her current role as Head of Markets Services to take on a new opportunity as Head of Large Corporate & Institutions (LC&I) Satellite based in Vilnius. She previously held the position of Head of Currency, Derivatives and Liquidity Operations at Danske Bank Group, and was also a long-standing Leader of the Financial Markets Department in Danske Bank Lithuania branch.
"For many years, Giedrė has been consistently growing as a professional within the organization and has demonstrated a sincere dedication to Danske Bank. I look forward to her contributing positively towards further maturing of Lithuania site and bringing volumes of experience in the banking and business management areas," says Ramūnas Bičiulaitis Danske Bank Lithuania Country Manager.
Danske Bank Lithuania Leadership Team consists of six leaders. Working in a matrix structure and global teams, they represent 4000+ employees in Lithuania. Country Leadership Team is responsible for the general vision and strategy of the organization in Lithuania, driving effective and aligned day-to-day solutions, employee experience and efficient activities, experience of employees, etc.