Danske Bank opened its newest office in Lithuania, DC Meadow, on September 30. The launch of the 800 workplaces office building, symbolically finished the 5-year-long development of Danske Campus in Vilnius' Žvėrynas district. Going forward, more than 90 percent of Danske Bank's employees will be able to enjoy flexible work here.
Adapted to working in a new reality
The opening of the ~13,000 sqm. building marks a significant milestone for the organization, uniting 4,000 employees in Lithuania. DC Meadow, which has opened its doors and is ready to welcome returning employees, together with DC Pier, DC Valley and Danske HQ, complete the construction of Danske Campus that lasted for about 5 years.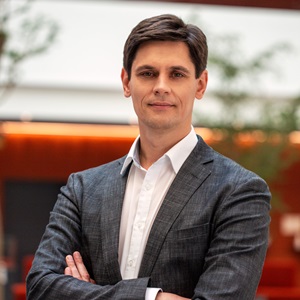 "This building completes the Danske Campus ecosystem, enabling our colleagues to work efficiently and flexibly, even in the reality of a coronavirus pandemic. It also changes our approach to a modern and sustainable workplace,"
says Ramūnas Bičiulaitis, General Manager of Danske Bank Lithuania.
DC Meadow opens its doors as a top-class modern workplace in Lithuania, fully adapted to the new, hybrid activity-based work. To that end, the bank collaborated with workplace anthropologists to identify six predominant employee personas, their needs, behaviors in the office, and then designed workspaces accordingly, enabling each employee to find a workspace that's the most suitable to their individual needs.
"In the DC Meadow building, as in every other Danske Bank office in Vilnius, we adhere to the Working@Danske philosophy. This means that teams can organize their own activities in their "home zone," using modular walls and mobile tables to create functional workspaces. There are dedicated collaboration areas, various types of meeting rooms, and quiet areas for individual work or relaxation. Finally, special fly-in areas have been established, where you can always find a vacant desk and "land" there to work at any time. A video and podcasting hub is also being established to allow colleagues and the general public to share knowledge and ideas," says R. Bičiulaitis.
The new building has more than 40 different meeting and team work spaces, all of which are specially designed for remote meetings. The amphitheater is a space for formal and informal gatherings, team building events, such as a cozy dinner party by the fireplace, in a home-like area called "Swarm". Aside from the "Swarm," there is a games room, kitchenettes and coffee corners, a terrace on the building's roof for the warm season, and areas for rest and even sleep. In addition, the Mexican restaurant La Capital, which will be open to the society too, will soon open its doors in the DC Meadow.
The Campus concept aims to bring as much nature and peace as possible to the capital's most urbanized area - it's like a city within a city. All of the buildings on the Campus functionally complement one another, providing many different spaces for individual, team, and project work needs, as well as for a healthy lifestyle, teambuilding, and even working with kids around.
"Danske Campus was built on the site of a decommissioned bakery. The philosophy of sustainability and innovative technical solutions were only paving the way in the Lithuanian office market when we began development, and it is still so today. Danske Bank believed in this philosophy, and this Campus is now the result of our shared vision and collaboration. It's an exceptional workplace on a local and international scale," says Diana Dominienė, Chairman of the Board of Galo Group, which has developed the Danske Campus.
The most recent technological solutions
The new Danske Bank building was designed by Eventus Pro, built by Mitnija, and the interior design was handled by A2SM designers. Galio Group is the building's developer and owner.
DC Meadow office, like all other Danske Bank buildings, was designed from the start to meet the international standard for sustainable buildings – BREEAM – and was awarded the BREEAM New Construction Excellent certificate.
"This means that the building is energy and environment friendly - the office has its own solar power plant on the roof, and even its orientation or the color of the facades and roof contribute to energy savings. The buildings on the Danske Campus were designed with the employees' comfort, needs, and ease of movement between floors and buildings in mind. All decisions were made by analyzing and forecasting the behaviors of the people working there," says D. Dominiene.
The DC Meadow spaces are also equipped with sound-absorbing acoustic solutions, ventilation and humidification systems that ensure a good microclimate, and a sufficient amount of natural light in the workplace. The building's architectural and interior design solutions reflect the theme of a vibrant meadow.

"All of these technologies are designed for sustainable and efficient resource use and employee convenience, so that the hybrid work model and return to physical workplaces in this period would be as easy, pleasant, and productive as possible,"
-

R. Biciulaitis says.