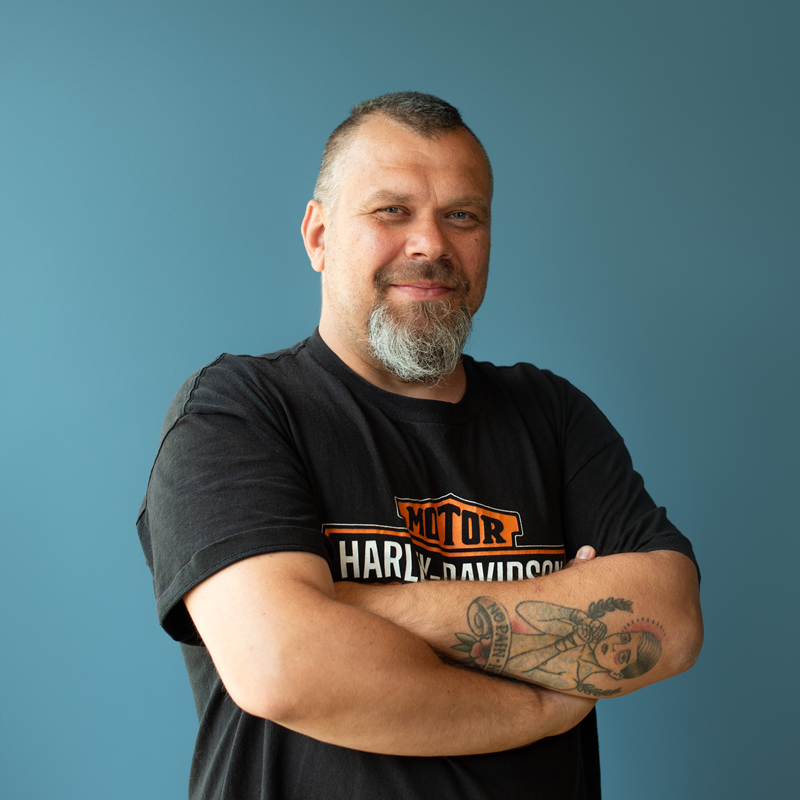 When he realised that he will inevitably have to look for a new job, Deividas was days away from turning 40, having spent 20 years in the same company, holding the same position. Starting work at Danske Bank Lithuania was quite a challenge for him. However, his personal qualities such as attention to detail and the drive to perform the most meticulous tasks to the best of his ability helped Deividas tackle this challenge and be promoted a year later. Although he himself does not like change, Deividas, who now works as an anti-money laundering specialist, encourages others not to be afraid of it – after all, there is nothing scary in trying over and over again until you make it.
Why did you decide to look for a new job?
After the national lockdown was imposed, the nature of my previous work allowed me to work remotely all year round. That year marked 20 years of me working for the same company. I joined the company straight from the army, at the age of 20. In the face of approaching anniversary of me working in the same place, I began to think: 'What am I doing here? I am almost 40 and this is all I can do?.' Thinking that, I backed myself into a corner, feeling no satisfaction with the work I do. Then I talked to my wife to see if I could try and change something. She agreed. With her support, I accepted an invitation from my acquaintance to work for his newly established construction company. A year later, when the new business failed, I was on the look-out for another job. After several decades of very stressful work at a transport company, I wanted a more peaceful and easier job. I responded to job advertisements and went to job interviews. Some of them were successful offering me a job. Then I had to make my choice. This is when a vacancy opened up for a Junior Anti-money Laundering (AML) Officer at Danske Bank Lithuania, where my wife has worked for more than 10 years.
I asked my wife, whom I used to tease asking 'When are you going to take me with you?' what this position was about. It turned out that applicants for this position were told that it was a very monotonous job, which was about repeating the same functions continuously, working on the same thing for extensive period of time. Then I thought to myself that it is all about me — I am just the kind of person who is attentive to detail. I love to spend time on details until it is perfect. Give me any task and I will do that one thing until it is done well. If something has to be painted, I will do it in the best way possible. If a bike needs to be repaired, I will do it flawlessly. And this is what I do in my current job. I am very happy that I made it, working at Danske for over a year now.
Did people comment on your age when you were looking for a new job?
No, never. Either they did not say it, or I did not hear it. Most of the time people would ask me why I had worked at the same place for so long. And that is a very difficult question. You just do not feel the years go by, winter to summer, winter to summer, and so on. I am one of those people who do not like big changes, in both work and life.

Do you think that age stereotypes and attitudes persist in the labour market, or is it just a myth?
Yes, I do. Although I have not experienced it directly, people of mature age around me have. My sister's husband, who worked as a manager at a company all his professional life, has unsuccessfully been looking for a job for several years now. Although everyone tries to help with the search, he cannot find a job and believes that his age is to blame. When my sister changed jobs, she faced similar difficulties. She was very worried that no one would find her attractive as an employee because she was too mature.

We are all different and I think it all depends on our attitude.
I always try to remain simple, without standing out, asking or expecting unrealistic things. All of us started from zero at some point. There is nothing wrong with having 20 years of experience in another field.
Of course, it is a pity that I lost my accumulated leave days when I changed jobs, but if we want something, it is up to us to change something ourselves, giving up some things or even starting from scratch, if necessary.
What was the most worrying thing, if any, about starting a new job?
First, I worried about my English. Even though the job advertisement said that the position did not require strong English language skills, I thought: 'Everyone in the organisation speaks English.' I heard my wife speak English all the time when she was working. Meanwhile, my English was very poor, but that was the idea – to employ someone with no English language skills and give them the opportunity to learn it. I was immediately sent to the AML English Academy to study for a few months - 1,5 we spent learning English intensively, and other 1.5 months — professional skills needed for the position.
Secondly, I was worried about was the workplace itself. It is also a completely unfamiliar field to me, as it has nothing to do with logistics where I worked all my professional life. In addition, most of my colleagues are young. I had some concerns about fitting in. On the other hand, there was a constant rotation of staff in my previous job as well, with new, young people coming in and a change of communication. Also, I have a daughter of a similar age and I understand what young people are like, what they are about and what is important to them.

What previous experience came in handy when working for Danske Bank Lithuania?
It was very difficult in the beginning: everything is new, you do not understand a thing and have to learn a lot. I did everything as a robot. I followed standardised work instructions, read and did what was required of me. It took me a year to master it all. Then I started noticing that there was a lot of redundancy in those instructions, spotting opportunities to amend, change and improve things to avoid unnecessary steps. This is where the LEAN principles I learnt in my previous job came in handy.
Years of customer service experience also prove useful. I have to provide customers with a service that will leave them satisfied. Meanwhile, I notice that my younger colleagues have not understood it yet: they get a task, do it and leave.
I always try to emphasise that we do it to make the customer happy, rather than to satisfy the boss or ourselves. For example, if you have a suspicion about a customer's transaction, don't rush to report it. First try to analyse it yourself and understand why this or that action was taken, and only then bother the client.
Was there anything new that you learned about yourself when you started working here?
My English has improved! I found myself talking to foreigners in the city when they asked me something. I answered as if it was normal, whereas before, when I travelled, it was usually others who spoke for me.
I have also become more confident. This may be because of my age, but I actually start conversations and talk to new people more confidently. Although I am a reserved, conservative person, I feel different here at Danske.
What would you say to someone your age who is struggling to find the motivation to look for a new, different job?
When I think back to the time when changes started in my workplace of many years, and I realised that I would have to change jobs, I thought: 'What am I going to do? How am I going to work somewhere else? And how will I find a job?' But the understanding that change is inevitable has changed something in me, and now I think it is very important not to think of yourself as old.
Be young and give it a try! If it does not work the first time, you can try once again. There is nothing wrong with trying. Being on a tight budget for a while is no problem either. With a bit of effort, you might even be able to get a promotion. I did. After a year, I advanced from Junior Officer to Officer. I was truly excited and motivated – not only do I like the work I do but I am also appreciated for doing it.