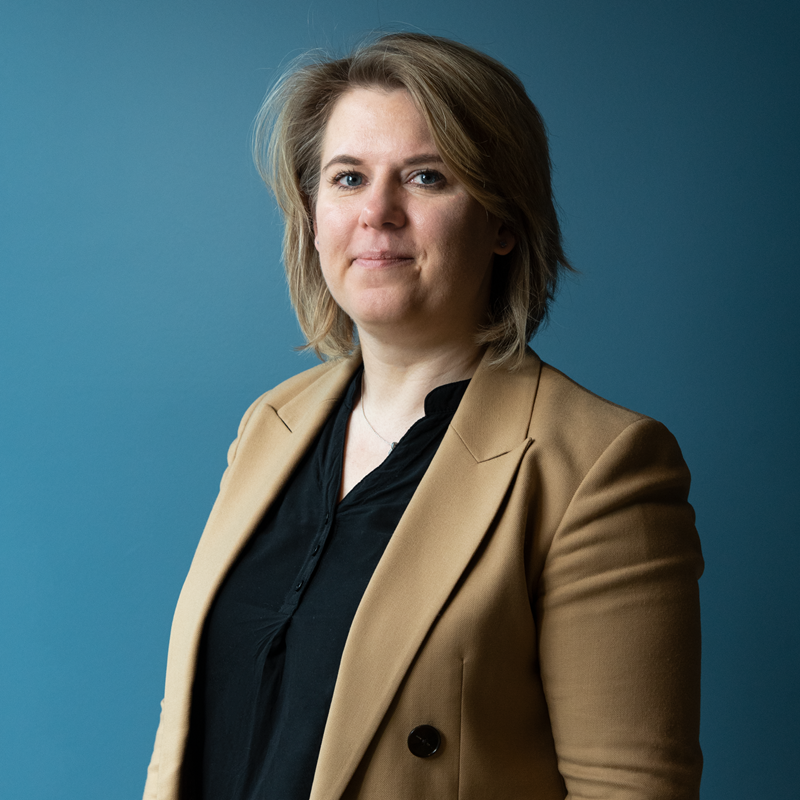 The search for self-realisation has led Evelina, a law graduate, into marketing, e-commerce and even a dog grooming business. She joined Danske Bank Lithuania a year ago, attracted here not by curiosity and a desire for personal fulfilment, but rather by her rational choice of workplace. With the company's care for its employees as the main criteria for her choice, Evelina ventured into an unfamiliar field of finance. The new position and the organisation's working principles have shown that anything can be learned if done in a disciplined, step-by-step way. Evelina, who has successfully reskilled and is now an Anti-Money Laundering Markets Monitoring Specialist, has once again realised that work is more like a marathon than a sprint. Now she applies the organisation's principles of learning and discipline in her personal life as well.
What made you decide to change your profession?
I was always looking for self-realisation. After graduating from law school, I worked in law, human resources and marketing. I also ran my own business. Prior to joining Danske Bank, I was in charge of marketing communications for five years: working on social media, designing and developing various marketing material – a one-man band, and I really enjoyed it. I was proud of myself for being successful in numerous projects despite having no marketing background, and I loved it. I worked with boundless enthusiasm and eventually, I was surprised to find myself exhausted. I was burnt out. My criteria for choosing a job had also changed; the priority was no longer self-realization, but the workplace itself. I felt the need to find a workplace that genuinely cares for its people. You can feel this care at Danske Bank right away. Because the organisation takes care of everything, from coffee to the additional allowance for increased heating costs, you come to work and focus on getting your job done without worrying about anything else.
Did you get any remarks about your age as you searched for a new job?
From the age of 35, I already had doubts about being able to adapt to a new job. Back then, during a job interview, I was told that, while I was a good fit for the job, they couldn't hire me because the team was very young, with the oldest member being 27. Similarly, before joining Danske Bank, I was offered a job at an e-commerce company, but I had a gut feeling that I was only offered the job because I had performed well in the selection process. The people working in the organisation were very young, and the recruiter had doubts that I would fit in.
Do you think that stereotypes and negative attitudes towards age are an issue in the job market, or is this just a myth?
No, it is not a myth. The stereotype that an older person will be unable to adapt to a new job does exist. And that is unsettling. There is a widespread assumption that young people have a burning desire to work, and that they do not spare themselves and are not afraid to overwork themselves. While older people will supposedly save their strength and fall behind younger colleagues. I've also heard colleagues discuss of how mature people are hesitant to apply for a job at organisation that have a start-up culture, where they might not fit in since it is not their culture. I personally had similar concerns, but they were unjustified.
What previous professional/life experience comes in handy working at Danske Bank Lithuania?
First and foremost, my teamwork experience and soft skills come in handy. It is easier to adapt when you know how to deal with a lot of information and a lot of different individuals – in fact, it is even easier for mature people. Perseverance and determination, where you do not give up easily since you know you must work harder to achieve something, also help. In addition, considering I have already changed jobs several times, I am able to adapt quickly to different environments and adjust my work, i.e. when you change the area or product you are working on, you also must adjust your knowledge and work methods.
The speed and flexibility I gained from working in different areas were useful here – I was able to adapt much more flexibly than my colleagues who started working there at the same time.
Finally, I've realised that work is more like a marathon than a sprint – that also comes with experience. It is particularly gratifying to be able to put my communication experience to use at the organisation. I joined the LinkedIn Financial Crime Prevention Ambassadors team – I regularly post on the social network about my job. So I do what I used to do in my previous job, only now I enjoy it more because it is now my hobby that I do in my spare time.
Was there anything new that you learned about yourself since you joined Danske Bank?
At Danske Bank, I acknowledged that you can learn anything as long as you are disciplined. I began taking kendo lessons, a Japanese martial art of duelling, and now practise twice a week. Everyone who knows me thinks that kendo is what taught me discipline, but the opposite is true – it was Danske that taught me, and I can apply it while learning new things outside of work. Now I play the piano, travel and I have written a book – I am doing everything I wanted to do before. Danske Bank has a culture of continuous, disciplined personal development and progress. You learn and apply your new skills not only at work but also in your daily life.
What would you say to someone your age who is struggling to find the motivation to look for a new, different job?
One of the most important learning Danske has taught me is courage – no one punishes you for being courageous. You can talk to colleagues, ask questions and be very open because there are no age, gender or other possible cultural differences. That culture of openness means you can be very courageous. People my age, I think lack courage, and that is what I would like to wish them: don't be afraid, go and try new things if you wish to, and don't let fear stop you. Growth is necessary, it is achievable at any age, and there are organisations which culture encourages it.