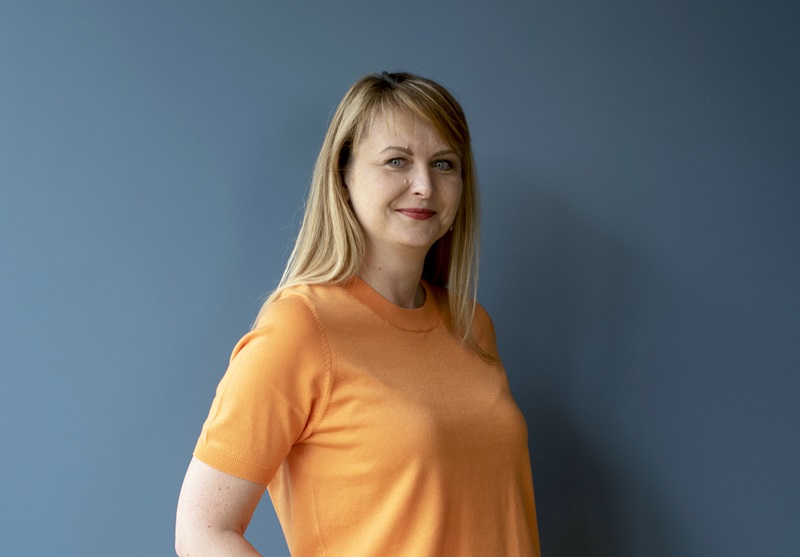 From an associate professor to a student — this rather drastic change in Ingrida's life was right on time. After ten years of scientific and academic work, she felt lost in her career path and realised that the time came to try a new field, learn and acquire new skills. She felt in a different world when she joined Danske Bank, though she does not regret changing her profession. Ingrida advises that if you feel not in the right place or are100% sure about your current job, you have to break new ground.
Why did you decide to look for a new job?
I have a degree in educational psychology. I wanted to save the world, work with children, and I was good at it. For ten years, I worked at the Training Centre for the Blind and Visually Impaired and had a lot of freedom and autonomy. I focused on assessments and guidance, but over time I realised that therapeutic and counselling work was not for me. While working there, my former lecturer encouraged me to apply for a doctorate, where I studied the intelligence of blind people. I started my academic career working half-time at the centre and half-time at the Mykolas Riomeris university. When the opportunity arose to work as a lecturer besides research projects, I left my teaching job and moved into science and pedagogy for the next 10 years. I was responsible for writing research project applications to get funding. We researched youngsters' development and later communication between teachers and students. I felt some instability: you never knew if you get funding, when it ends, and what happens next.
At the same time, it was challenging to juggle two activities – research work and a full-time job as a lecturer. I had to keep both due to financial reasons.
I felt I was running and running, yet doing things I liked, but something was still missing. The result seemed great, but it no longer made me happy.
I realised that it was the right time to learn something new effectively. The pace at which we learn new things slows down over time, no matter what we say. I started to analyse the fields I was interested in. I liked research work and intelligence tests. There is enough precision in this field - accurate questions and tasks. There is also some detective work – testing, investigating, putting the pieces together, experimenting.
I like details and the exploratory approach to solving problems and concluded that data and analytics might be my new career path.
I started my research bit by bit: talking to people working in data analytics and graduating from Vilnius Coding School, and completing recommended online courses on Udemy and Coursera. While attending WomenGoTech courses, my mentor worked at Danske Bank Lithuania and told me about the FuturePros programme – I gave it a try and joined as a student in August 2021.
Did you get any remarks about your age as you searched for a new job?
When I started looking for opportunities in analytics, I spoke to the game industry representative. I got his implicit but clear enough opinion of me as a female psychologist of a certain age. I cannot remember the exact words, but he said something like this: 'Here, in this company, you have to work – work a lot and hard.' I tried to say that it would suit me, but he made it very clear that maths, numbers, and things like that were not for me, a female psychologist who knows how to talk, and that I would not be able to work a lot, hard and at a fast pace.
I also remember receiving some specific comments about age. When I sent in my CV to apply for a new job, they bluntly asked how old I was and noted that I did not state it in my CV. I understand and accept that I may lack competencies for the position or particular experience they are looking for, but asking how old I am, sounds as inappropriate as doubting that I will be able to work hard, fast and intensively.
Do you think that age stereotypes and attitudes persist in the labour market, or is it just a myth?
I did not hear it in my immediate environment. When I decided on a radical career change, my family supported me. Well, they commented seriously or jokingly about my career change from being a lecturer and associate professor back to being a student.
I laughed at myself as well: they are all mathematicians, physicists, and here I am!
However, I hear people talking about ageism they experience. Still, nowadays, nobody says outright that you are too old or similar. It is expressed in a roundabout way, indirectly, as in the examples I gave, when they say that you must work hard or intensively or or point out that you should have noted your age.
What was the most worrying thing, if any, about starting a new job?
The biggest worry was whether I could do it and learn it. Even now, I am still not 100% sure if I am capable and if I am doing it well. In the WomenGoTech courses, I heard about impostor syndrome. At that time, I smiled: 'Please, what nonsense!'. Now as I work in a new field, I can say that I have that feeling: I probably do not deserve to be here, and they will see it eventually.
On the opposite, it never happens. I also get feedback that I am no different from those with a degree in exact sciences and that I do my job well. But there is still this feeling in me: maybe I will not be able to do it, I overestimate myself, etc.
What previous professional/life experience comes in handy working at Danske Bank Lithuania?
Danske Bank seemed like a different world in a few senses.
Firstly, I switched from psychology to finance and data science. Secondly, the terminology is different – when I went to my first meetings, everyone seemed to be speaking in some incomprehensible language. Thirdly, the work environment is also a different world.
On the other hand, I took technical skills with me — research, statistical modelling is the same whether you count money, chickens or people. Also, I have my approach to solving problems – how to analyse certain things. The third thing is that I have and follow a certain work ethic and have perseverance.
As a team, we have different kinds of tasks: some are very interesting, engaging, and motivating, and others are more boring, and all need to be done. I understand that I do not have to wait for someone to amuse, motivate or give me tasks that are only engaging and interesting.
Was there anything new that you learned about yourself when you started working here?
It is not something I came up with or discovered, but it has worked, and I am very proud of myself for it: you do not have to be unafraid, but you have to break new ground even if you are afraid. Now I realise I can do things with worry or hesitation, yet I have enough perseverance to look for solutions and do tasks. I can go through with it. Each time I get a new task, my inner reaction is: 'Oh dear, I will not be able to do it!' It has been that way since the beginning.
When I started working as a student, we got a task, and the first thought that came to my mind was: 'I have no idea where to start!'
Looking back now, I can say that I completed every task given.
What would you say to someone your age who is struggling to find the motivation to look for a new, different job?
I would say go for it! Really. If I went back in time now, I would do it all over again. It was not easy for me, and it still is not, and I do not feel 100% confident, but I would definitely do it again. Because if you feel incomplete or something is missing, ask yourself what the problem is. If there is such, it is worth analysing it and moving on.
Are you afraid or worried? That is okay: go, search, do it, because tomorrow is not guaranteed, and the time we have is also limited. Leap into the unknown, even if it sends chills down your spine!