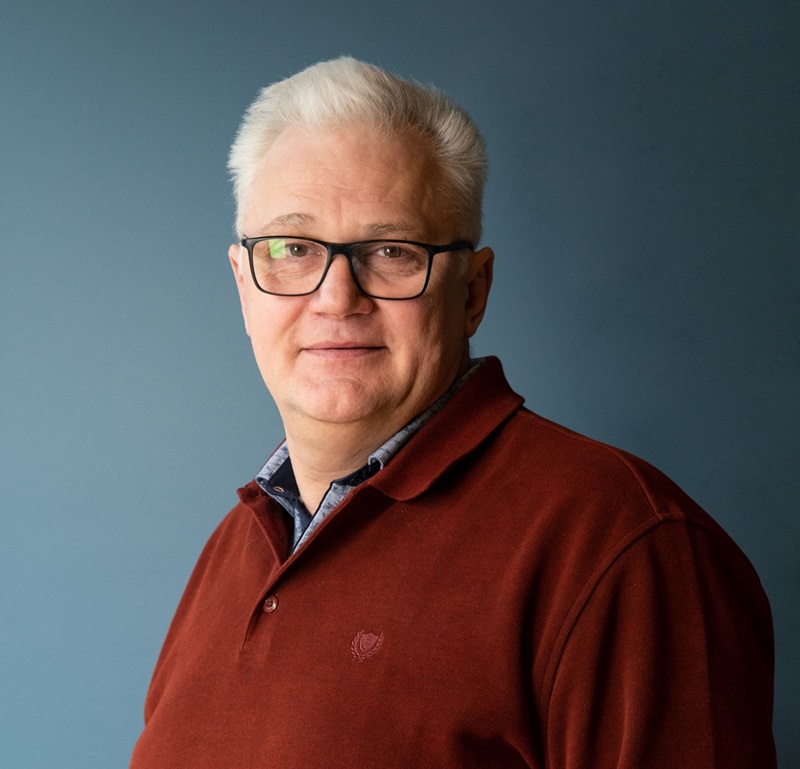 How can you find out what you actually like and want if you never try? Having joined the Danske Bank Lithuania coding team last July, Saulius encourages others with many years of professional and life experience under their belt not to fear change.
Ever since he was a schoolboy, Saulius had been fascinated by coding, dedicated much of his free time to it and even helped his colleagues with IT issues at his previous workplaces. So when the time came to look for a new job, Saulius completed a coding course, as well as the FuturePros talent development programme and now feels like he has made a dream come true.
What made you decide to look for a new job?
I'm an engineer by education, and up to April of last year, I had worked as an energy consumption auditor, serving 17 years at a large oil company. Even though my main duties consisted of managing large-scale projects, I was always helping colleagues with their computers, helping them get the hang of various Microsoft Office apps in order to make their work easier and more effective.
I've been interested in IT and coding ever since I was a schoolboy, I went to a coding class as an after-school activity. When I was at university, the lecturer asked if we had any questions after our first coding class, and I asked whether I could take the exam. The material they were teaching during the course was on a coding language I was long familiar with – I passed the exam during the next class.
Later on, coding was always nearby – after work, as a hobby. Recently, when I had to make a decision about work and leave my previous job, I thought, why can't I make my hobby – what I actually like – my daily bread?
Did you get any remarks about your age as you searched for a new job?
Danske Bank Lithuania was the first to speak to me and invite me to a job interview after I completed a coding course at the Vilnius Coding School. At work, I feel absolutely no different because of my age, but when I was at the coding school, I often heard people ask what I was doing there because, on many issues, I was capable of helping the teacher out, and I did. So I decided to take the course because I needed to get myself up to date. I understand that many things have changed over the years, from programming languages to actual technology.

Do you think that stereotypes and negative attitudes towards age are an issue in the job market, or is this just a myth?
If stereotypes and attitudes do exist, then they can be overcome – all you need is to be determined and willing. If you have the desire and the skills for a certain field and your health can take it – go, make the move to that field instead of thinking about all the possible obstacles. I wanted to study coding right after graduating high school, but people talked me out of it, and I ended up studying automatic operating systems. After a good decade, I took an extramural study course on electronic technology – a degree I needed for my previous work. I was the first there, in Mažeikiai, to present and begin using the internet. I introduced others to the world wide web. I was a pioneer and never went far away from coding, which took me to my current position as Full-Stack Developer at Danske Bank Lithuania.

What were you most nervous about when starting to work at your new workplace?
I was slightly anxious about whether I could do it, but it turned out I knew enough to continue developing. Although it did take me longer than the trial period. I know from experience that a trial period is for the employee to get to grips with what's going on, see whether they fit in the new workplace, and whether they feel comfortable. You need at least six months to really understand what's actually happening.
Now, with just over half a year under my belt, I feel good, and if there's anything I don't understand, I have a team of colleagues to ask. That's how it should go, how a team should communicate. I feel no barriers because of my age. Absolutely none.
Have your changed opinion about new job search as you joined the team?
I haven't had all that many opportunities to change my job, so I didn't have very established beliefs about job searching. Some time ago, a joke was going around on social media about what an employee does on their first day of work. They update their CV. Getting a CV together is my least favourite thing to do. When I completed my course at the Vilnius Coding School, I simply filled in a CV template and that was enough. The market needs coding specialists, even green ones like I was back then.

What previous professional/life experience comes in handy working at Danske Bank Lithuania?
Everything I've accumulated over my years of work and study has been useful and impacted my current job. For example, when I worked at the oil company, I was studying the English language intensively, even though I had no need for it in my daily life. Now I use it every day at work. I've also sat through many different courses: from project planning and team formation to critical thinking and conflict resolution. It has all been useful. The knowledge and skills I learned through them help me to see certain things that are important at work, to notice various nuances and to understand what I don't know yet, and what I still need to learn.

Was there anything new that you learned about yourself when you started working at Danske Bank? Did you learn anything new in general?
I have learned many ways and methods of working in a team – a large team of coders. On the other hand, I had a lot of experience with project management and planning because I had to coordinate and organise many large-scale investment projects in my previous work, projects that involved people from various disciplines and that had to be completed within tight time frames. So I acquired a solid skill set, and the work was very interesting. I can now apply it all to work I actually like.

What would you say to someone your age who is struggling to find the motivation to look for a new, different job?
Even though my change of career and my new job at Danske Bank Lithuania didn't take me out of my comfort zone, because coding has been a lifelong passion for me, I have encountered all kinds of work situations in which I had to test myself in completely unfamiliar territory, for example, as a sales manager. It was then that I realised that this job definitely wasn't for me, but if you don't try, you can never know whether something works for you, whether it's something you need. So for those who don't quite have the resolve to make a professional change, I'd say that you need to try. If you don't move at all and make no steps in the appropriate direction, you'll never achieve anything. You might even do more harm than good. And if you want to be emotionally healthy and happy, you need to move.