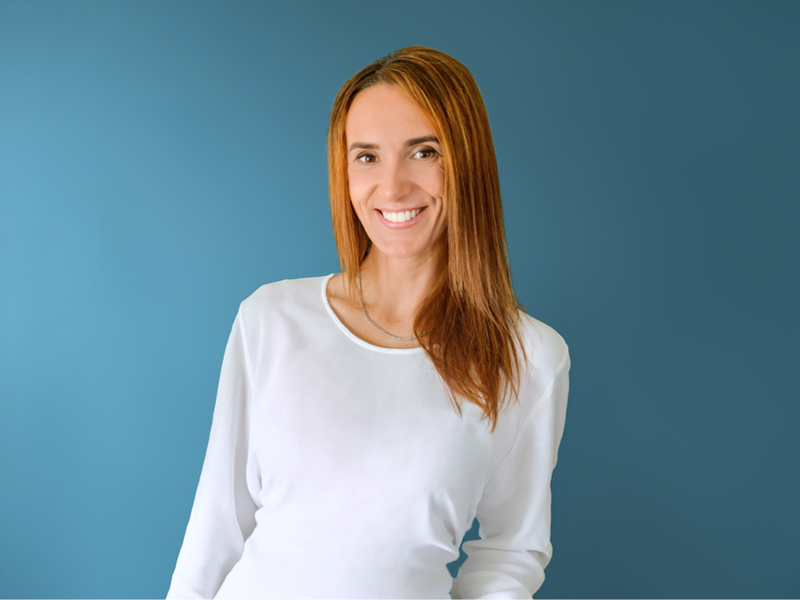 Ever since she saw an outdoor advertisement for Danske Bank's campaign to attract mature talent, featuring the writer Žemaitė and stating that she started writing only after having raised her children, all the way home Laura Karneckienė could not let go of the thought that her children are also big enough and that she could now look for an office job. When Laura went for her first job interview, she had no clue what she would be doing in her new job, but during the interview she realised that she found a perfect match: her new job duties would relate to the academic degree which she acquired 20 years ago but has never yet put it into practice. During her six months at Danske, Laura, a mom of three kids, has experienced firsthand that soft skills, work and life experience, and willingness to learn are highly important in pursuing a goal of becoming a professional in the field.
Why did you decide to look for a new job?
My career started in the USA, where I went under the "Work and Travel USA" programme. I graduated there with a bachelor's degree in Business Administration. While in the US, I did various office administration jobs and engaged in investing, as this was a cool thing to do at that time. When I returned to Lithuania, I obtained a Master's degree in Investment Management and applied to a telecommunications company, which fascinated me because of its international atmosphere. I worked there for a few years as a project manager in audit. After completing the project, I had to decide if I wanted to continue working for the same company, but in a new field – the marketing team. Although I had nothing to do with marketing, I was curious to try it out and did well in my new position, although I eventually realised that this field was not for me. Then a new career twist followed – I got pregnant. Since I studied English Philology at Vilnius University right after graduating high school, I tried to put that knowledge into practice during my maternity "vacation" engaging in freelance translation work. I really liked this job, new translation orders kept coming, so I was able to keep abreast of the labour market and not to go "rusty" even while on maternity leave. A couple of years later, I had my second child, and two years after that – a third one. I enjoyed raising children and freelancing.
But one day as I was driving in the city, I saw an advertisement of Danske Bank's campaign with Žemaitė in it and a message that Žemaitė started writing only after she raised her children.
I thought to myself: "Wow! My children are also big enough, my youngest son is already nine. I could possibly start working in a corporate job as well!"
Besides, my husband works at Danske Bank. I have always admired this company since the days when we went there for Family Day events. We had tours around the campus, with a guide telling us about various solutions implemented having both people and the environment in mind, from smart systems for climate control to rooms for taking a nap. I could not believe this was happening in Lithuania! I had only seen such campuses in the USA and dreamt of working there. And now my dream has come true here, at Danske.
Did people comment on your age when you were looking for a new job?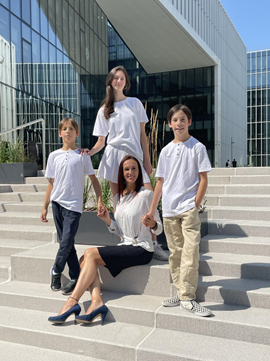 When I decided to take up an office job, I heard more comments about children than about my age. "How are you going to work with three children? They get sick, they have to be taken to after-school practice, there are various celebrations to attend, you will need a lot of days off" – I kept hearing from my friends. My relatives were most pessimistic about the possibility to combine kids and work. The grandparents got used to having their grandchildren taken care of, because the "children project", as I call it, has always been of uttermost importance to me. Whatever I do, I try to give my 100%. I invested a lot of my time, attention and effort while my children were still in primary school. However, after discussing with my husband, we decided to give it a try, and so far, everything seems to be going very well.
Do you think that age stereotypes and attitudes persist in the labour market, or is it just a myth?
Although I have not faced age stereotypes myself, I think they do exist. That idea is floating in the air, although I can't stop wondering how that is even possible. After all, we enter the labour market at the age of 24 and retire at 65. That means that I am less than half way through my career! I believe stagnation is the reason why people are not willing to change jobs. When I think about people around me, they become experts in their field and stay in the same company for years.
Thus, ageism may be related to sticking in the comfort zone, but I am sure that people of all ages have something to offer to the labour market, they just have to be determined and take action.
What was the most worrying thing, if any, about starting a new job?
My biggest worry was about me returning back to office after 14 years of being my own boss, when I could work when I wanted to, going on holidays or taking more orders when I felt like it, or working less when I wanted to relax. I was worried about having a manager who would tell me what to do. I was concerned about being able to physically come to the office or taking holidays in line with my family's schedule. But Danske has everything thought through: with its hybrid work model I can work from home some days. The company has also thought about children: there are rooms specially designed for children, where they can play and drink cocoa while their parents work. By the way, we often take advantage of this opportunity – our children "drag" us to the office.
What previous experience came in handy when working for Danske Bank Lithuania?
Definitely my life experience and wisdom, which I have come to appreciate a lot. Working in a young team, I notice how much I have already been through firsthand, how much I already know not just in theory, from some textbooks, but from my own personal experience.
But that's the beauty of life – my young colleagues still have a journey to take, while I am already reaping the fruits of that journey and using it as my greatest asset.
For example, I am not afraid to take responsibility for mistakes – I can admit that I made a mistake and learn from it. I understand that making mistakes is a human thing, we all make mistakes and I perceive them as lessons rather than as something shameful. Also, I am not afraid to ask questions until I get all the answers. I keep on asking from all perspectives in order to understand the heart of the matter, to comprehend why and how I am doing a one or the other operation. I also see complicated situations as a learning opportunity and I know that I will tackle them one way or another. However, I must admit that I do stress about my work – I am a maximalist. Although I do well, it always seems that I could do even better and I tend to overthink. My previous successful career path, when a strong desire and motivation helped me to achieve all my career goals, has also given me confidence in taking on a new challenge.
Was there anything new that you learned about yourself when you started working here?
First of all, I started truly appreciating my life experience. I realised that I would not change a thing about it. It hasn't all been easy – there have been ups and downs, but I appreciate all of them, they all were necessary and took me to where I am today.
I have once again made sure that soft skills are just as important as professional knowledge. This has always been the case in my life: I did what I wanted to – from audit, to marketing and back.
Being interested, willing to learn, curious, motivated, believing that I can do it and pursuing a goal are a key to success.
I may not know a specific field, but my ambition to be a professional in my field helps me out. Now, at Danske, I have a goal of becoming an expert market specialist. This is my sixth month in this position, and I am doing good in it, using my soft skills and knowledge.
I am sure that every generation has its strengths. For example, the younger generation is fluent in foreign languages, their computer literacy is astounding - I joke with my colleagues that they work at the speed of artificial intelligence. Meanwhile a more mature generation can offer their invaluable professional and life experience, strong work ethic and a high level of responsibility.
What would you say to someone your age who is struggling to find the motivation to look for a new, different job?
We, especially Lithuanians, are stagnant. We fear to get out of our comfort zone – we want to try something new, something we are passionate about, but the current place seems decent, so we whine, but stay put. I am not saying to easily drop everything and leave, but it's worth a try. It is better to regret what you have done than what you haven't. I have been in situations where I didn't give a try, and then beat myself up thinking how I could have done it, but did not have courage or was too late.
So, I don't repeat that mistake and now say "yes" to every opportunity. And I encourage others to do the same – to find a job that makes you jump out of bed every morning and enjoy what you do!