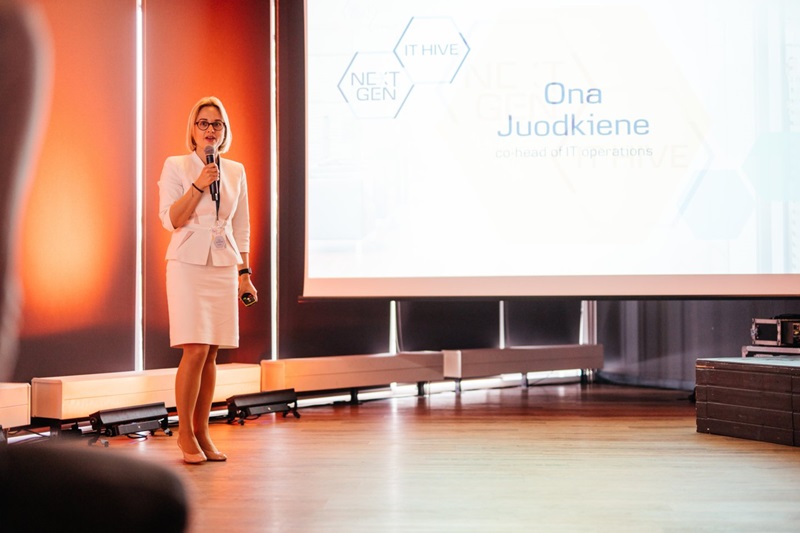 Several weeks ago, IBM and The New York Times compiled a list of 40 female leaders in the field of artificial intelligence from all over the world. I was honoured to be included in that list. However, this recognition is not so much about me as it is about the increased attention for Lithuanian specialists and their potential to create cutting-edge technology. In the field of artificial intelligence, the stars are aligning favourably for Lithuania, but constant effort and enthusiasm are required to achieve success.
That is why I am grateful to my team, including Giedrė Tijušaitė, Erika Dapkienė, Karolis Šimėnas, Gabrielius Ruokis, Elvinas Didika, Asta Mejerienė and others. Together we have taken up the challenge of innovation development with great interest and devotion.
A technology that is to revolutionise everything
Artificial intelligence algorithms are already capable of processing enormous amounts of data, recognising faces and voices, writing texts and diagnosing diseases better than humans. Huge potential exists for this technology to be exploited for the benefit of humankind.
Quite mistakenly, artificial intelligence is sometimes viewed as a merciless threat to our status quo, or at the very least, as a technology that will cause higher unemployment of real people. In reality, artificial intelligence algorithms will simply transform people's professions and help to deal with the exponentially increasing amounts of data and technological complexity. Moreover, algorithms based on artificial intelligence are already freeing people from monotonous and tedious work, which allows them to focus on more creative and rewarding tasks.
I believe that the artificial intelligence–powered chatbot introduced and tested by Danske Bank is a great example of the potential of technology. The chatbot can answer customer queries and solve IT-related problems, while our employees focus on developing and further training the technology. The chatbot allows customers to have their concerns resolved more promptly, since the response time does not depend on the availability of employees at any moment.
Those who lead and those who follow
The potential of artificial intelligence is enormous. In fact, a survey by global research and advisory firm Gartner highlighted a 270% increase in the use of artificial intelligence technology in businesses over the last four years. According to forecasts by different sources, the market of over a trillion dollars today will grow four to six times in the coming years. This staggering growth means that the first to innovate will reap the greatest rewards. Of course, they will also face the biggest challenges and risks as trailblazers in uncharted territory.
However, simply following in the footsteps of others is not an option, since a late start can quickly result in an insurmountable lag behind the competition. Artificial intelligence technologies are complex and must be tailored to the specific needs of an organisation. The process is time-consuming and, unfortunately, time is a luxurious and scarce resource in the modern world. While waiting, organisations might end up in a situation where they are no longer able to catch up with the progress others have made.
Growing and learning together
At first glance, one might not notice one of the greatest organisational benefits of artificial intelligence technology. The genius of these technologies lies in their ability to learn and develop themselves. Artificial intelligence is like a child that needs to improve and be educated. While teaching this 'child', our employees are growing together – they learn how to work with this new technology and how to leverage it in their daily work. We want our people to understand how artificial intelligence works, get hands-on experience with it and be willing to experiment.
Skills acquired through work with artificial intelligence technologies are universal. What is more, they futureproof your career. The biggest challenges are the early stages of the technology itself, and knowing what tools to use and how. Every day we deal with issues that we encounter for the very first time. What kind of data does the system need and what kind of data is useless? How do we implement the technology into our organisation? There are no instructions or tried-and-tested solutions, thus we learn along with the technology.
This process develops flexibility, creativity and the ability to experiment, which nowadays are expected to be the attributes of any professional. We at Danske Bank strive to facilitate the development of these qualities in individual employees and, eventually, integrate them to the core of the organisational culture overall. In other words, as the technology improves and develops, our people grow and develop along with it. The ultimate result is that our organisation's competence increases.
Challenges that cross all boundaries
It will come as no surprise when I say that Lithuania is strengthening its reputation as a home to great engineers, which is receptive to technology. More and more colleagues around the world are aware of our professionalism, strong work ethics and great engineering skills.
This trend is confirmed by organisations worldwide increasingly choosing Lithuania as the location for establishing their own IT centres and developing new products. According to Invest Lithuania, there are currently 78 service centres across different business sectors operating in the country. This shows that we are on the right track.
We must realise that the rise of artificial intelligence technologies encourages looking for ways that these technologies can change various industries: transport, energy, healthcare, finance or even the public sector. Here, programmers alone will not suffice – we need people who are steeped in these areas of business and, at the same time, have some understanding of using the latest technologies.
The University of Helsinki, together with technological solutions company Reaktor, has recently developed a free online training course, open to anyone, to learn the basic principles of the functioning and application of artificial intelligence. I am sure that this type of cooperation between the academic world and business is an excellent model for Lithuania as well. I think that no programmer will be able to quickly and thoroughly understand the operating principles of an energy company or a hospital like the people working in those sectors. On the other hand, when those specialists learn the principles of artificial intelligence, this might open up collaboration opportunities for engineers to develop new ideas and solutions.