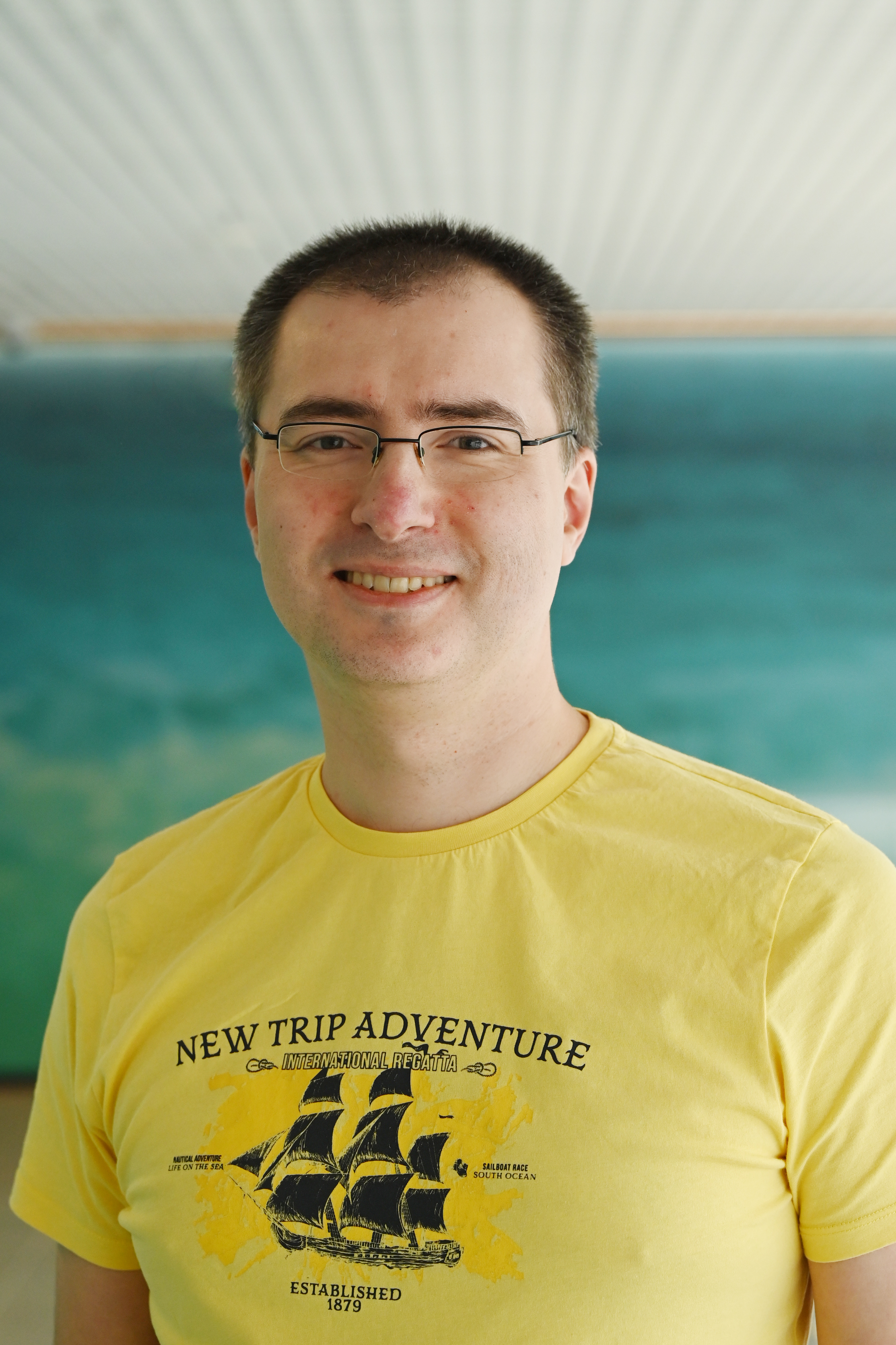 Aleksandr Voronkov feels and behaves with his colleagues at work as if he was at home with his family and tries to make all his team members feel the same. Although he knows there will be those who disagree with him on this, the most important thing for Aleksandr is that the employee feels happy at work. This is his strategy as a manager. The desire to feel happy is what brought Aleksandr to Danske Bank in the first place, motivated him to move up the career ladder, develop his competences and seek opportunities. According to Aleksandr, there are always opportunities in a large organisation – you just have to make the effort and aim for them.

At work like at home: making everyone in the team feel at home
"Feeling happy at work is my strategy. This is what keeps and strengthens my team – they do not look for job adverts, answer calls from headhunters nor respond to invitations from representatives of other companies. When communicating with my colleagues, I try to see their potential, motivate them, advise them on what they can achieve in our organisation, and show them a possible career path," Aleksandr Voronkov, Head of Danica Pension IT Lithuania, said.
When advising, communicating and working with colleagues, Aleksandr remains open: "I am an open person, thus I create the same kind of atmosphere and ask everyone to communicate in this way – to talk about both work and leisure topics. I want that at work, my colleagues would feel at home, like in a family. And that is what keeps people here. Just a few weeks ago, I heard from a newcomer that he was very attached to his team. Although he does not have to, he wants to go to the office because here it feels like being in a classroom with classmates. I am happy that the team is able to build such strong emotional bonds."
As part of this approach, Mr. Voronkov, who manages a team of 28 people, tries to maintain its free atmosphere: "I want to understand, see and I always ask what that person likes, where they want to be, and I look to their future – if that employee really wants something, they will get it and learn it. I try to understand and find them a job where they feel confident, good and, if it works out, I know that they will make the effort and be motivated. That means they will perform well, achieve good results, which will benefit the whole team and the whole organisation."
No one has ever hindered him, but encouraged to do more
The desire to be happy at work is what brought Aleksandr to Danske and what has always motivated him to look for the job that suits him best and that he enjoys. "I left my previous jobs when I felt I was no longer enjoying my work. In one job, I was the only one in charge and did everything, and in the other job, I felt I was doing unnecessary work. I came to Danske knowing that I would not be able to use all my competences in my role as an IT Application Support Specialist at that time, but I felt that I would be able to apply them in the future and that they saw potential in me."
Indeed, from the very beginning of his career at Danske, Aleksandr has never been hindered or discouraged, but rather encouraged to do more: "I feel needed here and I feel that I have the freedom to express myself. No one has ever stopped me from taking more and more into my own hands and expanding the list of projects I manage. My responsibilities continued to grow until eventually I started to do the kind of technical and engineering work that I was qualified for and wanted to do, so from the very beginning I always looked for ways to use my knowledge and showed my motivation, energy and skills."

When he felt something was missing, he took the initiative to create a new role
In his new role as a DevOps Engineer, Aleksandr continued to be driven by a desire to understand and know more, help and advise others as much as he can. "One, then a second, then a third DevOps Engineer started working together with me. Finally, I realised that I had become a team leader. I confidently told my manager about it and asked about the possibility of becoming the official team leader. Even when my manager changed, I never stopped showing that I was willing and able to do more. My efforts and initiative did not go unnoticed – I was appointed as IT Manager at Danica Pension in Lithuania. Although initially temporary, I immediately took on the role with full responsibility and great energy," Aleksandr said.
He is honest: when his former colleagues now ask him how he feels about being a manager, he says it is great, as if he was made for the role. In addition, he was given the additional role of Manager of IT Architecture as a result of his own initiative, as soon as he felt that something was missing at his work: "First of all, I saw that I had free time and needed something to occupy myself with. Second, I wanted to make progress. Third, I saw that I could not answer certain personnel management questions and that I could not take certain decisions. I talked about it with a colleague whom I trust completely and I realised what I had to do – I suggested creating an IT Architecture Department in the organisation, got support and took up the leader role myself."

Working on one of the organisation's most important projects
This additional role allows Aleksandr to use his experience and knowledge as well as to influence Danica Pension as a whole. "With my colleagues in this organisation, we are working on how different teams should collaborate on the technical side, and the technical design influences the organisational design, i.e. we are influencing both the technical and organisational processes," Aleksandr said, giving an example, "We are currently designing an architecture for a new project – a website for Danica's corporate clients, or in other words, we are responsible for the IT architecture for one of the organisation's most important projects."
Aleksandr compares the designing process of an IT architecture for a new service to the foundations of a building, on which all the walls, windows, roof, etc., are built. During the installation of the foundation, it is necessary to know and assess what materials will be used, what requirements and standards the future building will have to meet. "We also lay out the how and what needs to be there and prepare the core functionality, i.e. the foundation, by answering all the questions about technical requirements, technology, etc. right away, so that other teams can continue to work efficiently and the customer gets the solution they expect," Mr. Voronkov explained.

Working in a large organisation opens up many opportunities for both beginners and managers
He also reveals that in order to be able to participate in resolving the matters important to the whole organisation, he had to create the need himself, talk to stakeholders and get their approval. "One of the reasons that opened up this opportunity was working for a large organisation. It offers many different opportunities to realise your goals and potential. One kind of opportunities open up when you are a manager and another kind when you first start working for Danske. My advice to those who are new to the job is, first of all, to look for vacancies within the organisation itself. When you are already part of it, you can always approach the relevant managers to ask questions and find out more. Second, you can see for yourself how a team is doing, what competences it lacks, and you can offer them," Aleksandr advised.
Third is the opportunity to find the right position in a large organisation and continuously learn and develop as it offers a very wide range of professions and roles. "Until you start working in a large organisation, you have no idea what jobs exist for someone in your profession. Typically, a person who has studied IT knows about a job of a programmer, a tester and an analyst, but there are also programmers who specialise in front-end, back-end, mainframe and other areas. There are testers who automate processes, many IT specialists who are responsible for the development of services as well as their delivery, such as release managers, change managers, incident managers, etc., and countless other jobs. So, even if you are already in a job and realise that it is not quite satisfying or enjoyable, you can always look around and find something else that is more suitable and interesting."
Aleksandr said there were also many opportunities for changing yourself and changing Danske, when you are already a manager. "Organisational changes are always happening, so we need to keep an eye on them and seize the opportunity when we see one. Second, as I have already shown with my own example, I can initiate various changes and create opportunities for myself. You can initiate new solutions in other areas in the same way that I managed to create the IT Architecture Department, because people are the most important thing," Mr. Voronkov, who has been working at Danske Bank for more than 7 years, emphasised. He is sure that if a person is talented, shows desire, ambition and sees a perspective, then even organisational changes will be initiated to keep them motivated, help realise their potential and thus create value for both the employee and the organisation.