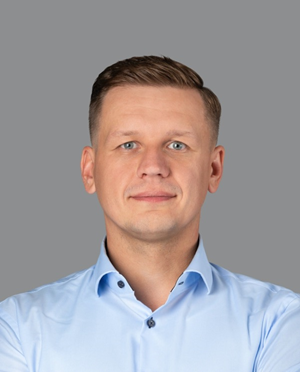 Donatas Bagdonas, Multicloud Service Owner
The TOP 2 sessions for Donatas from Re:Invent week are:

The foundations of enterprise reinvention by Todd Weatherby, where Todd was talking about enterprise journey to a public cloud. He mentioned points to which could be related with public cloud journey in Danske Bank. You can check that on AWS YouTube.
Keynote by Dr. Werner Vogels, who presented Amazon Web Services story and future in an interactive fun way. Check this out on AWS YouTube as well.
This year marks the 10th anniversary of Amazon Web Services' annual cloud conference re:Invent, as well as the 15th anniversary of the public cloud.
During this year's conference AWS announced a set of services that range from Database to Quantum technologies: 59 cloud service announcements and 14 cloud service previews, meaning that these services are available for developer testing and feedback; after this it will be generally available for all within a short time.
Donatas Bagdonas, Multicloud Product Owner, presents his overview of the services presented which are on Top of interest for Financial Services industry:
Architecture
AWS puts a lot of effort to sustainability & CO2 emission reduction, and they are doing excellent work while ensuring the sustainability of their public cloud. Now they have added a sustainability pillar into AWS well-architected framework to help their customer be more sustainable in the cloud. That will be beneficial for Danske Bank to help develop sustainable applications.
Cloud management tools
AWS put focus on European operated companies by improving native controls, to help meet European data protection and compliance requirements. It is way easier now to ensure that data stays in the designated region, and only region-fenced APIs are used.
Optimizers for computing & advanced monitoring introduced will help run computation more efficiently. These tools were previously only accessible for an additional from third parties. More automation in the networking area helps organize, assign, monitor and audit IP addresses at-scale.
Security
Danske Bank security colleagues were impressed by the new AWS inspector service, which provides continuous vulnerability management for cloud workloads. It is automated – when enabled, it does automatic discovery of elastic compute cloud instances (EC2) & elastic container registry repos and does continual, scans which eliminate the need for planning and putting effort into periodic manual scanning. The outcome is a risk score with a context for each finding, which helps identify which vulnerabilities are most critical and address them according to priority.
Artificial intelligence / Machine learning
At re:Invent, one day was fully dedicated to Data – a lot of data analysis announcements had been presented. Scholarships for data analysis students and free learning platforms should foster interest in learning AI and ML with AWS tools. Multiple automation services should speed up the creation of data analysis models.
Marketplace services
More freedom to deploy third party Kubernetes applications from the marketplace on every environment, AWS put an effort to make third party app deployment seamless. Freedom and ease of deployment are great, however, when we look at third-party apps, especially for enterprise, additional license cost should be considered.
Compute services
This year, there was a big announcement in the field EC2 M1 Mac, which would help developers build their applications for new M1 Mac processors, and for will make some Danske Bank colleagues happy about it. In addition, there was also a sneak-peek on new instances powered by new Graviton 3 processor, which were presented in preview mode, for the testing. As well as more speed, optimization, and price-performance services were introduced, which help us get more for what we pay.
Tools for Developers
AWS takes the next step in building the developer community around its services and replacing the old developer forum with crowdsourced, but AWS managed and reviewed Q&A service. Along with this service, an open source Cloud Development kit framework, version 2, was announced, which will help control cloud resourced in multiple programming languages.
Migration programs
AWS Mainframe Modernization program is a set of services that run compilers converting Cobol to Java. This service should be interesting for the financial industry, as many institutions run Mainframe. However, finding an easy way to modernize mainframe is a challenge. Currently, the service is in preview, so Donatas recommends keeping an eye on it to see how it will develop.
Storage
A bunch of improvements in the storage space were introduced. Donatas mentioned two of them as the most noteworthy :
1) Simple storage service (S3) glacier instant retrieval, S3 glacier is used to store the data, which is rarely accessed, and it takes time to retrieve it. Therefore the storage cost is low. But if your case needs instant retrieval, now it is possible to have it for an additional cost.
2) Nitro SSD is a new solid-state disk for intensive read-write applications. According to AWS benchmark, instances that use new SSDs 75% lower latency variability than the previous generation. AWS did a good session explaining how SSDs work, and it is possible to check it out on their YouTube site: https://www.youtube.com/watch?v=9NEQbFLtDmg
AWS is doing an excellent job with innovation. Every year they provide more services that are easing integration and management of the cloud. Some of them are now free of charge under AWS, as previously they were delivered by a third-party vendors, which, Donatas guesses now will have to pivot and find new business models.