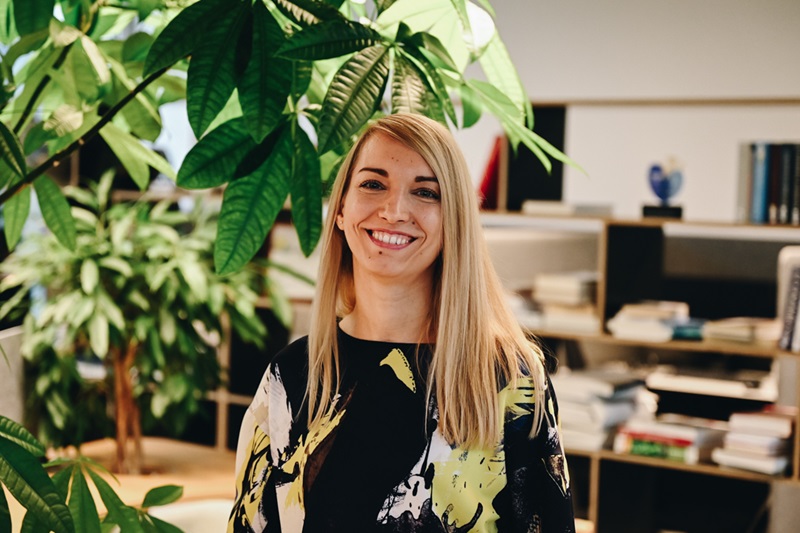 It's hard to fathom just how many people are hired and how many automated solutions are put in place to give our customers the best experience possible. Many of the bank's employees interact with customers, others even know them well, but most of the "bank's kitchen" remains a separate and unimaginable universe, complete with many different mechanisms.

As soon as I started working in banking, I realized that it would be a great way to get to know both the banking process and the business model from within. This career move allowed me to discover my strengths – that's why I'm celebrating 5 years with Danske Bank in December.

Who are the VIP Account Managers?

VIP corporate & institutional clients have a so-called client team at the bank, which includes a senior banker, relationship manager, cash manager, client service manager and an account manager. This "team" is tasked with representing the bank in direct communications with the client on different strategic issues. Although we have different roles and responsibilities in different areas, we work closely together to agree on the best solution for our client.

As an International VIP Corporate Client Manager, or Account Manager, I have a distinct portfolio of client groups. My responsibilities include maintaining daily cash flow, opening new accounts or closing old ones, monitoring and analyzing payments received or made and stopped at the customer's request, retrofitting of business internet banking, securing account balance circulation at Cash Pool, etc. Customers contact me by phone and email when they have questions, need help, or have additional requests for existing services.

My job is to thoroughly understand the situation from the customer's perspective, and be able to explain it to operations staff using banking terms. It's as if two different languages are required in our role. Account Managers work like you would in air traffic control: we know the requirements for various procedures, which unit is responsible for specific functions, and we instruct our colleagues to perform different tasks.

We're responsible for sending exact instructions and for delivering the correct end result. For example, when a customer's payment "flies" through the virtual space between different banks, their money might not be able reach the payee's account for a variety of reasons. In cases like these, it's our job to resolve the issue by engaging employees working in operations. Of course, the "airplane" must be prepared for its flight in advance, and many different teams in operations work together diligently. Everything is interconnected.

What the bank's customers often don't even suspect is that relatively small changes and requests "unlock" complex and important bank processes, and involve many different rules and many more exceptions. This is the first thing I learned at a bank while still working in a banking operational unit. Even a small mistake can cause chaos for a significant group of people on the client and bank side. Every detail is crucial, and every decision can be critical. I like structured work and I'm attentive to details, so this role is a kind of paradise for me. Inspecting each detail and investigating why something doesn't work, or where a large amount of money is stuck, is really satisfying to me. This is a career path in which learning and development are always necessary – knowledge is an integral part of the job and a guarantee of success.

The benefits of working in global teams

Another motivating factor is that, regardless of the bank's location and the country from which we serve our customers, we hear their feedback on the range of services provided and the quality of service directly. Undoubtedly, our clients appreciate the work of our colleagues in operations. Our daily routine involves hearing the client's gratitude at good service, and of course criticism if something is not working. Every time we successfully solve difficult situations, we receive sincere thanks which we can share with our colleagues who work on providing solutions.

We also get to hear testimonials during customer meetings. Live communication creates a closer connection and facilitates daily communication. The Golden Rule: it's better to meet in person once than to speak with a customer on the phone a hundred times. I've noticed that getting to know our customers in person makes communicating remotely a lot easier, and helps us feel more confident in our rapport. As business meetings involve strategic issues and the client's future plans, such visits provide a realistic picture of the client's needs and give us the chance to offer meaningful guidance and advice.

It is also fascinating that each trip is different; you never know what the next meeting will bring. We gain significant experience that helps us understand our customer's needs and move towards a more proactive service model. Customers particularly value proactivity and advice on what they could do differently to save time or optimize processes.

At Cash Management International VIP Support, we have a tradition of having breakfast together every Friday. This is an opportunity to discuss the most interesting and complex customer queries and share experiences in solving different tasks. That's what makes this role interesting – rarely are any two queries identical, which allows everyone to accrue different experiences. Sharing these unique experiences with colleagues simply makes sense, and it's always interesting to hear about others' challenges and achievements.