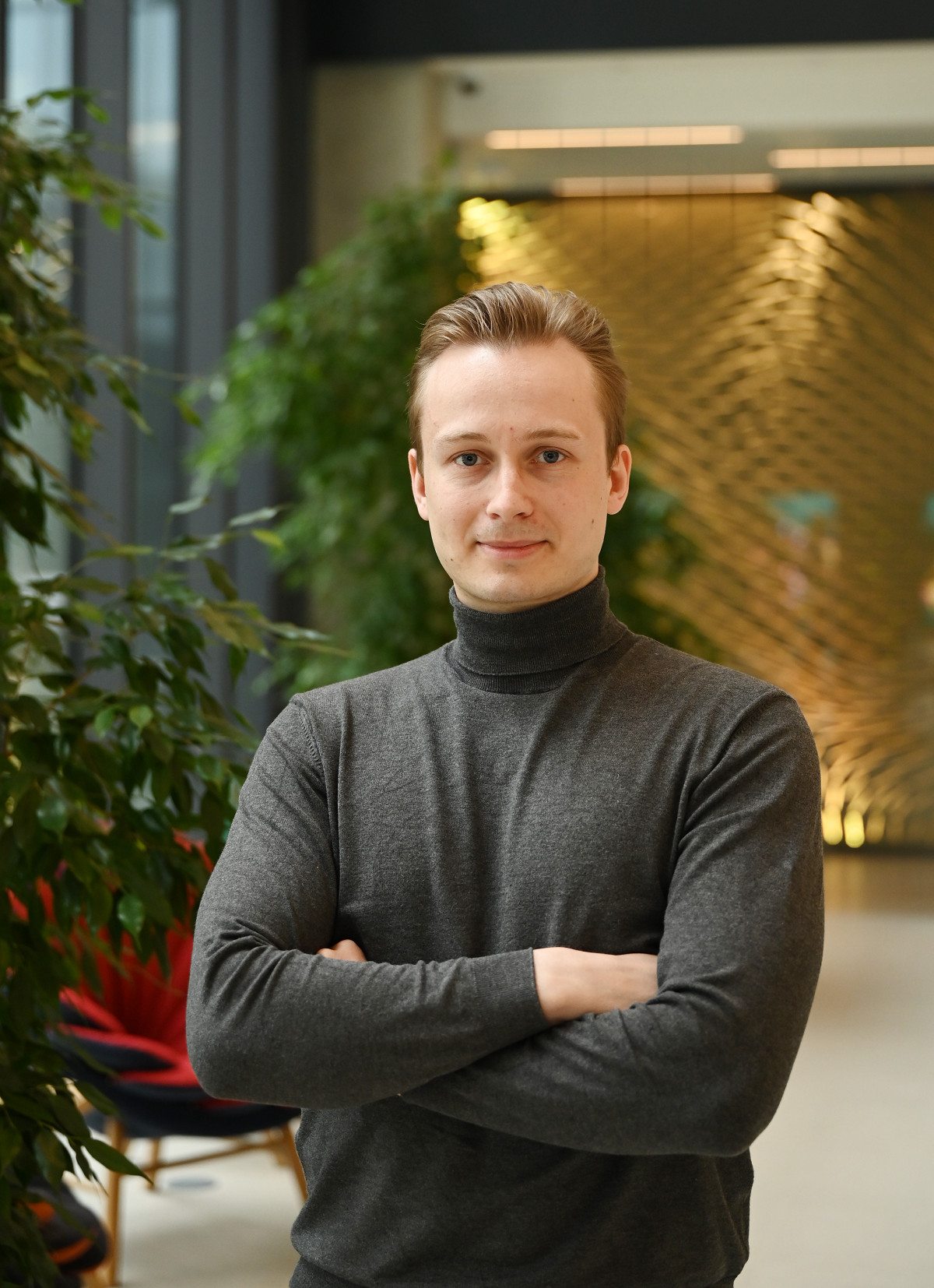 Over the six years at Danske Bank, Dovydas Juodys has worked in three teams, held specialist and leader positions, as well as trialling the Agile methodology, which was integrated into the organisation last year. Now Dovydas delves into the analyst profession and boldly debunks myths about it. Dynamic, versatile work that requires a close team and an in-depth focus allows Dovydas to fulfil himself fully while also opening up opportunities to choose from a variety of career paths in the future.
"The organisation itself makes an effort for you"
"Nobody limits you at work, and there is a lot of freedom here. You can express your preferences, ideas, and suggestions for improvement and change boldly and openly. It seems the organisation itself is making an effort for you. Internally, we have a variety of learning programmes; everyone has a development plan and tasks assigned to them help to achieve the set goals. Of course, you must work hard, do your job well, be proactive, and if you do that, the company will assist you in getting where you want to be. There are no limits to this," says Dovydas. At Danske Bank, the career path can be both vertical and horizontal – Dovydas had tried it himself; it is possible to move from one team to another and test your strengths in different positions.
"Prior to joining Danske Bank, I worked in another company dealing with various payments and foreign transactions. Although the field was similar and my duties included direct communication with clients, daily customer support, and problem solving, I preferred more in-depth case studies and technical work. After hearing recommendations on Danske, I joined the Currency Exchange team. I got the job I wanted, worked with the back-office team, and had to understand and go into the technical details of payments," says Dovydas Juodys.
From a specialist to an expert
Over the course of four years, Dovydas held four different positions on the Currency Exchange team, ranging from Officer to Principal Officer. "I wanted to improve further and learn new things. My previous experience working with various people and projects determined my next step toward becoming a team leader in the same Markets Post-trade Services department, albeit in different team. In this position, I had the opportunity to further develop my leadership and management skills, as team and human resources management tasks constituted a significant portion of my work."
Dovydas considers himself to be a technical person. He enjoys delving into the details, so he attempted to devise tasks for his team that would allow him to grasp the essence of the processes and make necessary improvements. "I gradually realised that I was more interested in the technical side of the process, especially as the Agile working methods began to be integrated into Danske Bank. Based on them, the IT team's structure was newly formed and I took advantage of the opportunity last summer to move to the position of Analyst in the IT team. Being involved in large projects and having open opportunities to make significant changes that affect the entire organization's work and its results, motivates me the most," says Dovydas, holding a Senior Analyst position at Markets Post-trade Services department of Danske Bank.
A feedback culture
He gives an example of how, after six months of intensive research, he and his colleagues were able to automate manual payments, saving costs and increasing work efficiency. "Previously, certain payments required two people to make. However, after analysing the situation and determining how we could adapt the systems we already own, we did so, and the payments are now created automatically. If mechanical work is still required, one person is sufficient now," explains Dovydas. He emphasises that the trust he feels from colleagues and leaders motivates him to take the initiative and implement changes. It is also important that he receives constructive feedback on his and his team's work and contributions to the overall efficiency of the organisation.
The environment of Danske Bank allows employees to feel cared for: "At work, we have every opportunity to improve professionally and to take care of our health. In addition, various activities and communities – from basketball, and volleyball to yoga and choir – ensure well-being and promote socialisation," D. Juodys says. Nonetheless, professional perspectives are the most important thing at work for him, and they are diverse at Danske. In Lithuania, Danske Bank employs specialists from over 100 different professions. Dovydas is open to both a comprehensive Product Owner position and a more in-depth understanding of IT after having tested himself in a variety of roles. Still, he enjoys the flexibility of the Agile structure and the work of a Senior Business Analyst as long as he is still deciding on his future path.