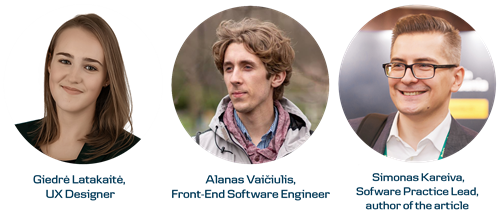 If you have liked our first article on technical contributions to customer experience, here is a sequel to the story of our Private Cloud CX, where engineers and designers collaborate to bridge the gaps between complex infrastructure and business-oriented software development. Below is my conversation with Alanas Vaiciulis (Front-End Software Engineer) and Giedre Latakaite (UX Designer), who have joined forces to deliver a boost to the Private Cloud experience.


Alanas, Giedre, tell us about yourself, your daily

work and your responsibilities.
Alanas: I have started as an IT Intern in the Future Pros program a year and a half ago, and I am now a full-time front-end engineer working in a permanent position. I am doing my best to make Cloud2 API less scary, more accessible and user-friendly for daily use, all of that via our internal Cloud2 self-service portal. Together with collaboration specialists, designer, back-end engineers, we wrap the cloud services into a single web portal.
Giedre: I began my journey as a UX designer more than half a year ago in a Future Pros program. My responsibility is to improve the user experience when using key infrastructure products, including the Cloud2 portal. I seek to make the product usable, enjoyable, and understandable for new and experienced users. Also, to ensure that product design meets the needs and requirements of the business.

Can you please describe the purpose of the Cloud2 self-service portal and specify which part of it you like contributing to the most?
Alanas: The Cloud2 portal is where developers connect the dots of the infrastructure services. The portal needs to provide a clear picture and effective automatic stacking of those services, helping to save developers some valuable time. For me, it is very fulfilling to see and learn how so many processes are automated and have been made available for wide use.
Giedre: Personally, the most important thing for me is quality improvements of the features and services that developers use every day, thus ensuring that the operations performed by Cloud2 users are as efficient, fast, and enjoyable as possible and facilitate their work routine.

What are the principles you work on while improving the user experience of the Cloud2 portal?
Alanas: Feedback, accessibility, and reduction of time consumption for the user are the main factors we focus on the most.
Giedre: In addition to that, understanding what (and when) users need and want, then strive for as simple, efficient, and understandable processes as possible, given that simplicity is not a thing at the core of the Cloud2 portal.

You have just recently released a major contemporary style piece for the portal. How do you feel about the change already? Did you receive any feedback from users of the portal?
Giedre: Recent changes have been a significant first step towards an innovative design that encourages us to continue making efforts to satisfy our users as much as possible. And with that, we also convey a small message to the users that we care about their experience with Cloud2.
We see that Cloud2 users have noticed the latest design changes - it also sparked users' curiosity about the upcoming changes.

What are the upcoming changes? Are you working on anything special?
Alanas: We are increasing the functionality of the homepage based on logged-in user activity and habits. Also, we are focusing on the Cloud2 portal's general feel and UI, so more styling updates are coming.
Giedre: We are designing a special one-pager section for developers to build apps in a wizard-style, where we hope to minimize the need for external documentation, provide hand-holding guidance during the process and, most importantly, educate our users on Danske Bank's specifics on the go.

What is to your mind, important to be able to make critical UX decisions?
Alanas: Obtaining as much feedback as possible and understanding the value of delivering a solution to the users. Before implementing a feature, ask why they would want it, and most importantly, measure if it is what they truly need. We should keep striving to balance a middle ground - between what users ask for and what we should actually deliver.


Anything that you could give as a piece of advice to fellow colleagues working on web development, design and UX?
Giedre: Find empathy with your community. The rest will follow.
Alanas: Measure everything.
That was an energizing conversation! Thank you!
Feeling inspired to start your own Tech career journey?
👩‍💻
Visit our
Future Pros
page and join the program!