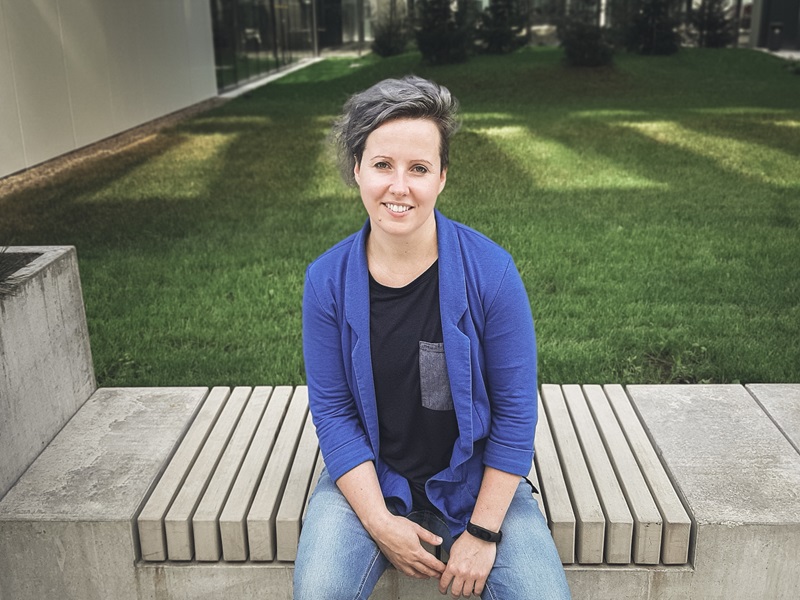 Ten years ago, I had no clue where I would be today. Back then, I was studying natural sciences at Vilnius University, working in a lab on various biology projects, and had an interest in art and volunteering. Today, it will soon be two years since I started working in the Anti Money Laundering (AML) division of one of the largest banks in Lithuania. I am a Senior Analyst with international CAMS certification, and work with large international business clients. What happened in the last decade of my life to explain this 180 degree change?
Professional knowledge isn't the only thing that matters
After completing my Masters of Science degree, I craved change and aspired to realize myself in another field. Although my field of study isn't directly related to my work, my education has helped me in many of the professional situations I face today.
Starting out in AML, I had to integrate a lot of new knowledge. The learning skills which I acquired at university were a great asset in ensuring that I learned effectively and accurately. In this line of work, one has to go into the details, analyse, and critically evaluate facts. This also resembles the work of a researcher, except that my current field affects society more directly.
The impact of Volunteering on Competence Development
An American organization that promotes volunteering has researched how volunteering can help you find your career path and your place in the world. A survey of more than 70,000 jobseekers found that people who volunteer have a 27% greater chance of finding a job than those who do not. They also reported higher levels of job satisfaction because they already knew their strengths and how they could fulfil their potential.
My experience of volunteering at Youth Line (Jaunimo linija) – where I started more than seven years ago, and where I continue to volunteer to this day – definitely confirm this.
The competences I gained through volunteering have aided my work in AML. First and foremost, volunteering for me is about being part of a large community of great people, but it's also an opportunity to make a real contribution to the wellbeing of society. Volunteering has helped me understand just how many different people live right next door, and how everyone needs the same things, like a sincere conversation. I learned to how to actively listen to others. Creating dialogue is relevant in all walks of life.
Creativity brings you a different perspective
In my spare time I enjoy taking photos, curating creative projects and realizing myself in artistic activities. "Why am I talking about this, and is this relevant to AML," you ask? At first glance, these points don't connect. But the artistic side of life helps me to find balance and take a break from working in the office, gain more experience, and find new ways of adapting to difficult situations.
All of your life experiences come together to form a portrait of a cohesive and unique personality. Your different competencies can complement each other, and diversity in life encourages creativity. This helps discover new points of view, new solutions – even for the most basic or technical challenges. Imagination and fantasy are always a great added value in both one's personal and professional life.
Working in AML: a very complex endeavour
At first glance, all of the challenges in the field of AML may seem very technical and homogeneous. However, this is actually a very complex and diverse domain – we rarely repeat the same thing too many times. Clients and their operating models vary, requiring flexible and accurate operational procedures as well as rapid adaptation in order to frequently update our procedures. This is of course an opportunity to help prevent financial crime, but it's also a way to get to know how different large multinational companies operate.
What is most important when working in AML? First of all, impartiality. Even if a customer is known in the world, he or she should be judged by the same criteria as all others. Critical thinking must be maintained.
When it comes to specific AML diplomas, CAMS certification is one of the best ways to prove your knowledge. I'm delighted that Danske Bank gave me the opportunity to acquire it.
Development doesn't end with certification
Recently, I have learned a lot by contributing to the development of the IT platform 'Tableau'. This tool helps us to see the progress of our client's activities on one page – all transactions, risk factors and so on.
You need to interact with the colleagues sitting next to you, risk managers, department heads, programmers, and more. It is gratifying that high-ranking colleagues are happy to receive and share their experiences of how a particular bank function works, and so on. At the same time, it is great fun to be able to contribute to a tool which makes us all sharper and more precise.
People, and life, constantly change
While many people say it is important to find work that always makes you happy, I don't think this is realistic. I would even advise against setting yourself such expectations. Both people and life are very dynamic; joy naturally comes and goes. And that's totally fine.
Today, I'm happy that I can fulfil my potential and develop my capabilities at Danske Bank – an organization that offers many opportunities to combine one's core work with their own personal initiatives and projects. Danske Bank provides learning and encourages personal improvement. The value-driven Scandinavian-style work culture is wonderful: each individual receives a lot of personal attention, and is encouraged to maintain a healthy work-life balance.
Even though I didn't have any plans to work in this kind of workplace a decade ago, I believe that it isn't always necessary to 'follow the plan'. Life can often surprise you with great things that you would never have imagined.