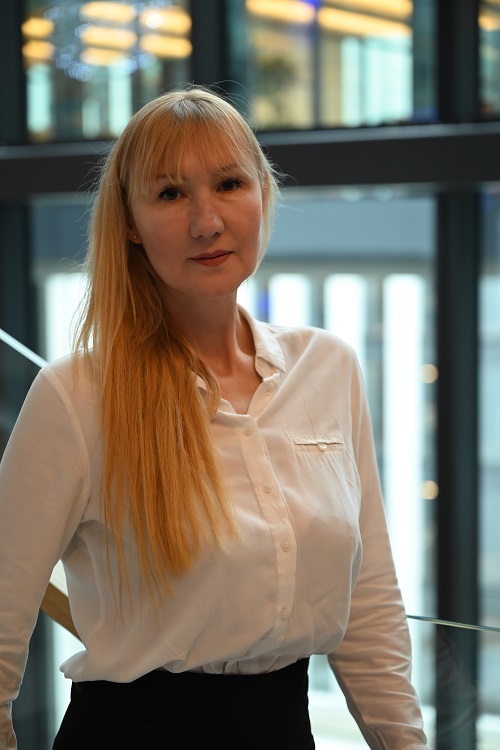 It is one thing to leave your country and move to a new place. You get there, settle in and calm down. However, as a week or two weeks go by, you realise that although you may stay alive here, socially you're not. Many Ukrainian women feel this way when they leave their home and find a safe shelter in neighboring countries. Tetiana, a Ukrainian currently living in Vilnius, Lithuania, hears the same desperation in her friend's voice who is staying in Germany. She and her eldest daughter found jobs in their fields, and Tetiana's team members became her closest friends in Lithuania – a country that she had never been to before and that will not be foreign to her anymore.
Both mother and daughter found jobs in their fields in Vilnius
"We have a lot of girls in our family; I brought two daughters. One of them, the eldest, is already working – she has found a job in her field. She is an architect, who worked for a big construction company in Kyiv: she designed apartment blocks in Hostomel, but there is nothing left of Hostomel, so there is nowhere to go back. Finding a job in your profession is a true gem! What the people who still stay in Ukraine are afraid of is that they will not find a job in their field when they move abroad and that they will have to work in unskilled jobs, like washing dishes or cleaning houses. Of course, I would wash the dishes if I had to, but getting to work in my field is a dream come true! It is very important," said Tetiana, who has been working as an economics specialist in Vilnius since mid-May.
She found out about the vacancy in the Danske Bank Technology and Services Center after seeing the advertisement online. "I looked through several job portals and, quite by chance, found an ad with a job description that made it clear it was the right job for me. Even though I was seeking a job in my field, I have to admit that I hardly believed I would find it. I worked for many years as a chief accountant and then as a chief economist in a Ukrainian state-owned enterprise. Although their line of business is quite different – the company was selling grains - but the work is similar, with invoices and payments," said Tetiana, who is currently an Officer-Service Delivery in one of Danske Bank's teams working on bill payment.
Took a vacation from work in Ukraine – she planned to return in a few weeks

Tetiana joined the team of 18 payment specialists after going through a selection process. "After I sent my CV, I was contacted by the HR department of my current employer for an interview. I also had to take tests, which I passed, and was then interviewed by an HR specialist and the team leader. The interview was conducted in English. It is easy to answer questions about work in English, but it is challenging to speak English about Ukraine or my experience there. My current team leader has helped me a lot. When I ran out of English words, she calmed me down by saying, "Speak in Russian, I will translate it."
Despite her emotional situation, Tetiana had to look for a job and start working because the money she had brought with her was running out. "When we arrived in Lithuania, I was completely sure we would stay here for two or three weeks. I took time off from my previous job in Ukraine and then an extra few weeks of unpaid leave. I thought, we will be here for a month, it will be like a vacation for my children and me. We will sightsee around the country and rest a little bit. They will sign a peace treaty, and we will return home. Every morning I woke up thinking that everything would be over soon, but after the events in Bucha, we realised that the situation was serious. I was running out of the money we had taken in cash and started looking for a job," she said.
The best decision the Ukrainian has made in her life
In Ukraine, Tetiana worked for a strategically important state-owned enterprise with 55 divisions across the country. "Our company was holding a public grain reserve, so we were among the first to be occupied. All my co-workers who worked in Izium were shot in the office," Tetiana briefly mentioned. Her daughter worked as an architect in Kyiv. "I do not know why, but a week before the war broke out, I invited my daughter to visit us in Western Ukraine. I did not believe there was going to be a war, I even laughed when my European friends started calling us – I asked them is it the war in Ukraine finally being reported on the news, because it has been going on here for eight years. However, I told my daughter to come for a week and stay with me for a little while. Now I realise that it was the best decision I have ever made in my life, because it was unrealistic to leave Hostomel as soon as the war broke out because it was immediately occupied," said Tetiana.
Tetiana's eldest daughter felt very unwell during the first weeks of her life in Lithuania and wanted to go back to Ukraine. "I could barely stop her. She kept saying that was it, we had stayed here long enough, and that she would go back to rebuild Kyiv. I said it was not yet time to go back, not yet time to take up rebuilding. She has calmed down now, but of course we all dream that we will get the chance and go back. I really want to go back, at least for Christmas, and visit my family, but I am afraid. I do not feel safe when there are explosions and bombings around," Tetiana said. However, her husband, her daughters' father, has already come from Ukraine and visited them in Lithuania once. "My husband can leave the country, he has the right to do so because he has had a disability for many years, but he stayed with us for two weeks and then went back to Ukraine. He says that until the war is over, even though he cannot fight, he will stay and help, at least by making pierogi for soldiers."
The woman's only social interactions in Lithuania are now with her colleagues
Tetiana, who lives in Lithuania while her husband is in the Ukraine, prepares meals for both her girls and her coworkers when they come to visit. "It was my birthday recently – the house was full of guests, my co-workers. They often visit me at home, and I go to see them too. My team and interactions with my co-workers are my entire social life here in Lithuania. A Ukrainian woman I know is staying in Germany and has been there alone with her children for six months, and she says she does not even have anyone to talk to. You do not think about it until you experience it. The benefits may be better in Germany, but without someone to talk to, someone to spend your free time with, you feel as if you are slowly dying socially. It is a terrible feeling," Tetiana said.
In the first months in Lithuania, Tetiana did not go out with her daughters either – she just did not want to. "Since the beginning of the summer, we started to go out for a little bit. We had a family day at work, so I brought my daughters. They loved my workplace – its beautiful premises, excellent working conditions. Although I worked in a large organisation in Ukraine, there are still a lot of challenges with the technology needed for work, i. e. computers, printers. If anything stops working, it is very hard to find help fixing them, so I showed my daughters modern offices. The eldest daughter scolded me with a smile: "Mom, don't brag!" And I could only take the youngest out last, after everyone else had left," the mother of two said smiling.
Tetiana also took part in the 10th anniversary celebration of Danske Bank Lithuania held at the beginning of autumn. "It was Friday, and they organised an out-of-town trip and an interesting full-day programme. It was my first time on a narrow-gauge railway train – it was an amazing experience. We ate at a restaurant on the shore of a lake. I enjoyed all of it, but the most memorable part was the bus trip with the whole team. "I saw some of my coworkers for the first time; everyone was satisfied and happy; we talked; there was a lot of laughter and chatter," Tetiana recalled.
Planning just a few days ahead – she realises that plans can fall apart in a moment
In order to be able to not only talk with her colleagues about work, but also have a friendly chat with them more often, the Ukrainian woman plans to learn Lithuanian. "There is no need for Lithuanian at work – we all communicate in English. However, everyone in the team is Lithuanian, and before I was hired, everyone spoke Lithuanian to each other. The team leader discussed it with the team, and they agreed to communicate in English. I appreciate that very much. But sometimes we use a few Russian words – some colleagues speak Russian – or even Ukrainian words – my work friend, who has been assigned to me from the very beginning to help me familiarise myself with my work and answers me when I have any questions, already knows a little Ukrainian. My team leader has also learnt some Ukrainian words," Tetiana said.
However, she plans to make use of the opportunity given by her employer to learn professional English first. "There are plenty of opportunities here: you can learn, you can grow, and after a few years, try for another position. It is not just about career development, it is about all-round development – the opportunity to understand more, know more, do more, and have more responsibilities. I have many plans, but at the same time not the slightest idea about the future. I have already agreed with my team leader, and I know for sure that I want to learn, I want to go to courses, but the next step is like trying to see through fog. My mind cannot plan, because I understand that all my plans can fall apart in an instant," Tetiana said with a sigh.
"I cannot plan more than a few days ahead right now, but I will be sure to learn Lithuanian because this country will never be foreign to me again."