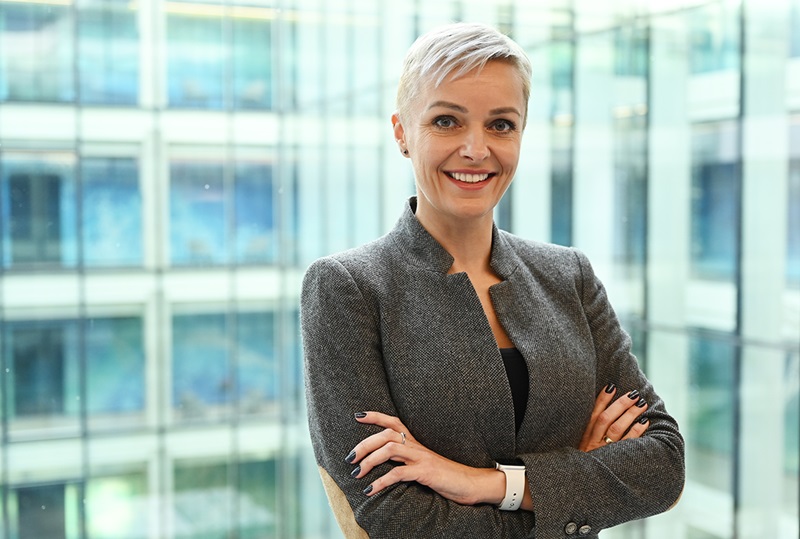 Personal and business customers are served by Personal & Business Customers Services personnel on a daily basis at all phases of their life. We can provide the most relevant services and products to our customers because we have a unique understanding of their demands.
This is a fantastic chance to learn more about banking while also finding a place where you can grow and develop.
Professionals in this field continue to grow on a daily basis by learning from one another and exchanging knowledge on a global scale.
Daily support for personal and business customers at all stages of their lives – that could be a brief profile of the Danske Bank's Personal & Business Customers Services team. However, Irina Kundrotienė, Head of this area, advises not to be misled by this abstract sounding statement. She points out that professionals in this field assist the Bank's clients in Scandinavia and Northern Ireland with hundreds of different functions ranging from personal housing loans to business development credits for companies.
"It all begins when a client joins the bank or when a business opens an account with the bank. We manage all aspects related to the client trust – from opening the account to assigning services. In the later stages, increasingly more customer demands arise and the range of services continues to increase. For example, a young couple purchases a home and asks for a loan from us. Meanwhile, for business customers, we offer a range of services that are important for the development and growth of their business", says I. Kundrotienė.
Personal & Business Customers Services employs more than 1,000 professionals across the Danske Bank Group, with about 500 of them based in Lithuania. This sector is organised into four major sections, according to I. Kundrotienė: Everyday Banking Individuals, Welcoming & Orchestration, Buying & Owning Real Estate HUB, Business Financing and Asset Finance.
According to I. Kundrotienė, the Personal & Business Customers Services area is unique and appealing since it allows professionals to deliver the most appropriate services and goods by looking at the customers and their needs.
"While it may appear that our everyday job consists primarily of paperwork, this is not the case. Everyone may express themselves in the spheres according to their requirements, whether it's being involved in projects, offering training, participating in robotics projects, or putting a fresh new concept into action from beginning to end. In the event of a specific project, we must discuss all difficulties with the client, and the job becomes inextricably related to the development of managerial abilities at this point. When dealing with corporate client financing, we must examine papers and questions in order to provide the best offer for the client. In this scenario, it is critical to have a thorough understanding of the company's finances, the ability to "read between the lines," an understanding of the actual client's demands, and the ability to identify risks and opportunities."
When asked what traits and competences are needed for professionals who work or may work in Personal & Business Customers Services, I. Kundrotienė mentions curiosity, attention to detail, logical thinking, teamwork skills, and the aspiration to grow with the organisation.
"In the past, we put a lot of focus to our employee education and specific knowledge. However, as the service centre in Lithuania has grown in popularity and developed a number of well-defined processes and performance requirements, the approach to teaching has shifted. Rather of focusing on particular expertise, we frequently emphasise the attributes of a potential employee: Curiosity, attention to detail, logical thinking, excellent command of English, receptivity to innovation, or digital literacy", says I. Kundrotienė.
She notes that this area provides an excellent chance to learn about banking and to work in an atmosphere that encourages employees to grow and develop. According to I. Kundrotienė, this area welcomes employees with a wide range of educational backgrounds, including those in humanities. Most essential, they should be enthusiastic about dealing with customers, papers, and banking prospects.
I. Kundrotienė also mentions the opportunity to study and gain new information on a daily basis, and one of the most recent programmes launched by the Personal & Business Customers Services team – Housing Academy – may be of interest to employees from different departments at Danske Bank.
"The Housing Academy gives professionals with a wealth of insider knowledge about the complexities of Danish real estate, which is invaluable in their day-to-day job." I attended the very first session where a Danish professor discussed refinancing, and while I had assumed that the process was identical to that in Lithuania, there were a few differences. This type of knowledge is extremely valuable and fundamentally transforms how you view a country's market. We are extremely proud of this initiative and it may be of interest to colleagues in other areas who are also considering similar initiatives", says I. Kundrotienė.