Meetings are scheduled based on when the kids have to be picked up from kindergarten. When a child falls ill, there is no dilemma about whether to work or not, and you can still feel part of the team even before you have returned to work through employee benefits, periodic newsletters, and invitations to company events. These are just a few facts from the lives of mothers working at Danske Bank that allow them to enjoy their maternity leave in peace and successfully balance mo

therhood

and career upon returning to work. Though their work is IT-related, the mothers working at Danske Bank are the kind that change stereotypes about the people working in the field.


More mothers work in IT and come in with more confidence
"I began working at the Danske Bank IT Support Centre seven years ago. Compared to when I first started, the numbers of women are increasing and they're coming in without any kind of hang-ups about IT being just for men or that they might not be valued as much," shared Asta Mejerienė. Even though her education and previous work experience were in no way related to IT, Asta's apprehensions about whether she would actually be able to work in the field were dispelled by her own desire to learn, which was very much supported by her colleagues and Danske Bank's general corporate culture.
"At the beginning, when I first started out as an IT Support Analyst and had thousands of questions, and even later, when I became a Senior Team Manager and Head of the Service Desk, I could always consult with my colleagues. And not just about professional issues," says Asta.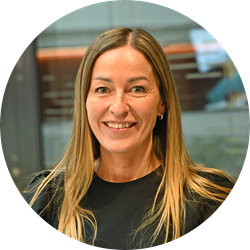 "We talk a lot about motherhood, diversity, and inclusion. These are subjects that are also closely related to how colleagues who have children or are thinking about having them feel within the organisation. For example, we hire young women who have just started their families based on their competence, attitude to work, and motivation. I've hired many such women myself, and I've never had any questions about their plans to have children."


-Asta Mejerienė
Having transferred to the Everyday Banking Individuals team since April, Asta says that she speaks frequently to her colleagues about family: "We talk about family and encourage people to talk about family. Our attitude toward it is very open, supportive and commendable".
Decisions are always made to the advantage of working parents
Asta provides an example from her own life of how she balances her work as Integration Lead on her Everyday Banking Individuals team with raising her daughter: "I've just never had to ask myself the question whether I need a day off if my daughter gets sick. I never felt any negative attitude coming from anyone. Just the opposite – only encouragement. I even got a few questions on the occasions that my husband took a day off to be with our daughter".
"If I need to take my child to the doctor, meetings are scheduled around the doctor's visit and not the other way around. Working with Lithuanian and Danish colleagues who have children, I could see how flexible the workplace was in allowing parents to balance work and family. For example, the practise of working from home was often applied even before the pandemic, in consideration of when parents had to pick their children up from kindergarten or school", recalls Agnė Buivydienė, a mother of a nine-month-old son and Senior Finance Controller at Danske Bank before going on maternity leave.
"If we're addressing some issue at Danske that concerns parents, and if the officially applicable work protocols or even laws offer some leeway on either side of the issue, I know for a fact that the decision will be made to the advantage of the employee," Lina Gutauskaitė seconds the words of her colleague. Before leaving for maternity and childcare leave, Lina served as the Resource Coordinator on the Performance Management team. Knowing this, Lina feels completely at ease about how she will readjust when she comes back to work after her two years of childcare leave. The employer's constant attentiveness contributes to Lina's peace of mind and sense of security.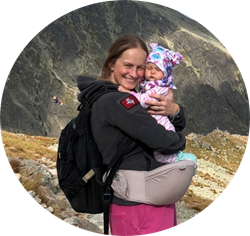 "I'm always invited to various Danske Bank events; I get newsletters and presents on the holidays. These might be little details, but taken together, they create a sense of security".
-Lina Gutauskaitė
According to the mother of an 18-month-old girl, the private health insurance offered by Danske is also very useful. "It allowed us to have a separate room at the hospital. And as I raise my daughter, I still benefit from employer-funded accident insurance. Though I hope I don't ever need to use it, and it's not a critical necessity, having that protection feels good. It shows that you're part of the company", says Gutauskaitė.
Experience gained on the job helps when raising children
Even though Lina and Agnė's experiences raising their first-borns are different, they observe that, just like at work, the skills they have developed come in handy in their roles as mothers. "At work, I feel confident and am always surrounded by people who are willing to help if I need it. This helped me effectively adapt to the constant changes that come with working in IT. When I gave birth and began to raise this new person, managing the situation wasn't as simple as I thought it would be before I became a mum. The ability to adapt to new situations and take challenges head-on helps", reveals Lina.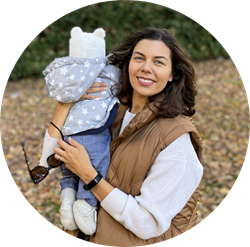 "I often joke that I'm still analysing data, just the data is a little different. My head is full of numbers, but only those numbers are related to my son's daily schedule and how I plan the day. I'm glad to have all the technological help that makes taking care of a child easier. I use a lot of apps to track and analyse data, and I apply different strategies to our schedules so that I can compare what works better."
-Agnė Buivydienė
Agnė's work has had a direct influence on how she raises her son. Her rather technical approach to childcare sometimes surprises people, but she is used to solving problems this way and it works for her. Asta concurs with her colleagues: "At work I learned to deal with the most unexpected situations and constantly solve issues that cropped up. Previously, I ended up in situations where I had to figure something out on my own by accident. Now I dive into them on my own accord because I'm curious and I want to find my way out. With family it's the same thing: you can't apply some algorithm with a guaranteed result. Every day presents a kind of puzzle that you must solve. You have to deal with things that you've never dealt with before – from the unexpected onset of a child's illness to emerging personality traits". According to Asta Mejerienė, a mother of a seven-year-old girl, the skills learned at work can help her deal with the challenges of family life and enjoy motherhood.

---