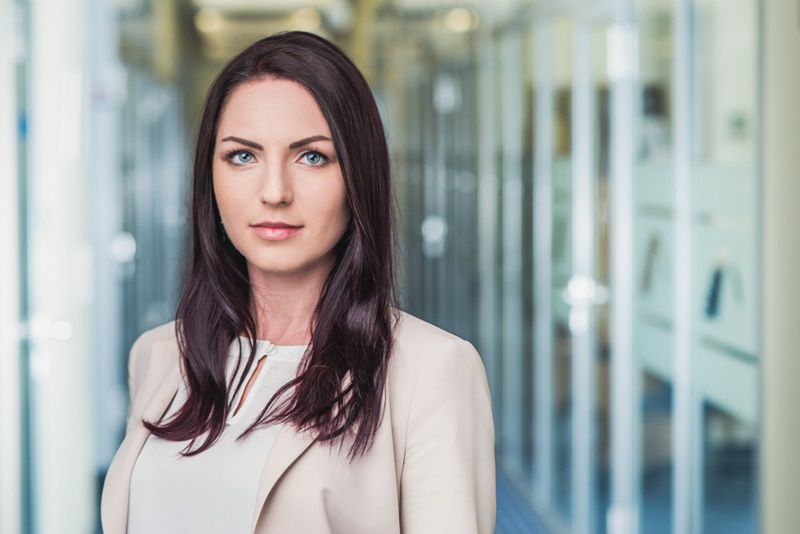 IT, cybersecurity and engineering solutions are less and less seen as exclusively male fields. Similarly, people these days do not necessarily end up in a job that is linked to their educational background.

The tendencies above are part of a broader shift in the world of professions, that is happening worldwide, for the better of our societies. It is becoming clear that the ability to see challenges and solutions from different perspectives through a wide range of disciplines, provides an advantage and allows us to make decisions that are much better suited to the society's needs. Finally, the practice has shown that within the working environment, professionals should not be defined by their gender or their diploma.

While other girls were playing with dolls, I was rewriting operating systems

From a young age, I was my father's girl. I liked to watch him repair electronic equipment. When I was eight, he and I assembled our first computer. Later, we started upgrading it. At the age of 10, I started helping my classmates with Windows OS, installing MS Office packages and other applications on their computers. Then, in school, I became keen on programming. All of it was interesting and new. It was something that challenged me. Growing up I realized how vast, and therefore nearly limitless in terms of possibilities, the IT sector is.

However, when it came to choosing my bachelor's degree, I started doubting whether I wanted to study information technology. I got lured in and applied for a newly introduced study program focusing on the creative industry. Unfortunately, in this study program I did not feel that I am learning things which I was expecting to learn. That is why at the same time as I started my studies, I also started working on my own development plan and got a job in the IT sector.

How I arrived where I am now

I started my career as an IT specialist while I was still studying. I started out doing network cabling at Nextcom, while later on in this position I got acquainted with actual network equipment configurations and troubleshooting. Later on, I became an Attack Monitoring Events Analyst at Barclays Technology Centre, and after tasting IT security, I entered a System Engineer-Consultant position, where I got the majority of my technical security skills. Last year I came to Danske Bank where I'm working to this day. I am a Senior Security Architect at the IT Security and Risk Department.

Cybersecurity as a field is considered a priority at Danske Bank and has around 100 people working on it. Our primary goal is to reduce the risk of data corruption and to protect the bank from potential attacks that can occur in a variety of ways.

Security assessments take up most of my working day. Together with colleagues I evaluate and review infrastructure solutions, application architecture. I also learn to understand their designs while working with other architects and decision makers to identify all risks, security gaps, and to get the most sensitive issues corrected before implementation. The best security practice is to set strict limits and rules for any decisions and products.

How did customers view me when I started working?

I think that in current times a professional cannot be defined by his or her diploma. Training in a specific field, certificates earned, and the way a person thinks are useful. But everything else comes with experience.

However, in one of my previous workplaces, I was confronted with skeptical customers. This was especially true when working with 40 to 50-year-old engineers. They did not believe that I was well-versed in IT and would be able to perform all the tasks that came up during a project, even if it was a firewall mounting into a rack or controlling the risks of projects. On top of this, I had to face the skepticism of my colleagues.

But all of this awoke a healthy stubbornness in me, as well as the will to prove that all these stereotypes were wrong. After a rocky start, both the customers and colleagues were finally satisfied with the results, and I became an expert people would listen to not only in my workplace, but in the broader IT community as well.

Do you want to requalify? Go for it!

Nowadays, while working in Danske Bank, I do not need to prove anything to anyone because the results here speak for me. Results are the only criteria by which you can gain trust and professional respect. Based on my own journey I can say that if you see yourself working in a different area, even if it is the opposite of where you are now, the best time might be now. There are more opportunities than ever before. All you need is will, stubbornness and determination to learn.

1. Start with the basics. Want to be a proper network engineer? You will need to work with cables first. Get to know the infrastructure from the ground up, then get to network equipment to understand how and why it works.

2. Don't rest on your laurels. We live in a very dynamic time. The technology sector is undergoing such rapid changes that it is necessary to refresh your own knowledge of what is happening and what are the new trends all the time. You need to foster your curiosity.

3. Don't just look for solutions to problems, but also have the courage to tackle and solve them. Develop analytical, critical thinking, and keep calm in stressful situations.

4. Find a competent mentor. Not only will he or she provide professional knowledge, but they will also extend your network of acquaintances, making it easier to become a part of the community of professionals you are interested in.

5. Do not worry about your gender or what diploma you hold. Be bold and courageous. Don't be afraid to make mistakes. No one said it was easy to become a competent and respected specialist, but that it is worth it, I can assure you.

Want to hear more success stories? Let's meet up at the Women Go Tech conference on June 20th in Art Factory Loftas.